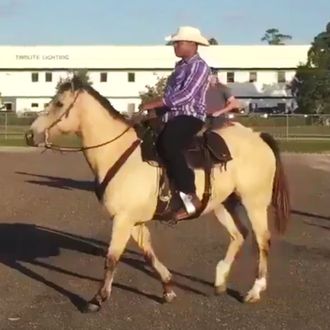 Yoenis Cespedes and his horse Vanity.
Mets outfielder, over-the-top-car enthusiast, and round-waffle lover Yoenis Cespedes continues to be the star of the Mets' spring-training season for reasons that have nothing to do with baseball. After driving to camp in an assortment of exotic customized vehicles last week, today Cespedes arrived on horseback along with teammate Noah Syndergaard. It also appears that Cespedes had so much fun while attending the Saint Lucie County Fair on Saturday night that he returned a day later and purchased a $7,000 grand-champion hog that had been raised by a local 4-H member.
According to SNY, Cespedes has a ranch in Boca Raton, where he keeps horses, pigs, and other animals. So Syndergaard asked him to put together the horseback arrival for a digital series he's working on with SNY.tv.
Cespedes (in full cowboy gear) and Syndergaard rode the horses for about 15 minutes, from the team's minor-league complex to the players' parking lot. There, others — including teammates Steven Matz and Kevin Plawecki — took turns on horseback.
Cespedes's one-horsepower arrival comes two days after he left the Saint Lucie Fair in Florida with another animal. Cespedes had intended to go to the fair with teammates on Saturday, but traffic forced many of them to bail on the trip. Cespedes, though, had already arrived (in full cowboy outfit then, too). He watched the hog competition, and according to local resident Sandy Croghan, whose grandson Cole Pallas raised the winning hog, "He asked one of the people at the rodeo, 'Well, what would you buy?'" Speaking to ESPN, Croghan said that a bystander told Cespedes that the best hog is the grand champion, so Cespdes said, "That's the one I want."
The slugger then returned the next day and won the auction for the hog. (The proceeds benefit the 4-H Club.) Says a Mets spokesperson: "He was in a bit of a bidding war for it."
"His family was there. He was very, very sweet," said Croghan about Cespedes, via ESPN. "He took pictures with my daughter and everybody. And he autographed a bat for Cole." Reports don't say what exactly Cespedes will be doing once he gets the pig home, but ESPN does note that Cespedes has a history of participating in roasts. There's even a clip of him doing so at the 19:24 mark of this video he made when shopping himself to Major League teams years back.