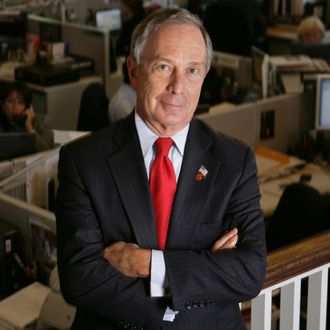 Mike Bloomberg (legally) used a personal email address for city business while mayor.
Photo: Spencer T Tucker/NYC Mayor's Office
We're all sick of hearing about Hillary Clinton's emails, so perhaps you'd rather hear about Mike Bloomberg's? The Daily News reports that more than two years after his final term as mayor, not a single email Bloomberg sent while in office has been made public. All of the emails to and from the nyc.gov addresses of Bloomberg and his senior staff were preserved and turned over to the city's Law Department. But most of those messages are still being processed, and they aren't likely to include many emails from the former mayor himself, who frequently used his Bloomberg.net address for city-related issues. And while he was permitted to do so under law, historians and good-government groups are worried that correspondence will be never become available.
"It would be a huge problem for historians trying to write a history of the Bloomberg era — and it is an era in which he as mayor did so much to shape the future city," Robert Caro, the acclaimed biographer of Robert Moses and Lyndon Johnson, told the paper. "It's in the informal exchanges where so much is revealed."
Some good-government groups also aren't happy. "It's inexplicable that there's so little available on the mayor," said Blair Horner of the New York Public Interest Research Group.
Messages from the Bloomberg LP server haven't been turned over for archiving, though a Law Department spokesperson says the city is still trying to obtain more emails from the Bloomberg administration, including those of the former mayor. "We have been working, and will continue to work with the prior administration, to determine which emails may be subject to preservation requirements," he said.
There isn't a law banning elected city officials from using private addresses for work matters, and Bloomberg has contended that he got permission to use one when he took office in 2002, when he was given the okay to donate some of his company's proprietary terminals to City Hall, where he and top aides used them to transmit their correspondence. A Bloomberg spokesperson says the mayor and his top staff have fully complied with their legal archival obligations.
Even if Bloomberg's emails are never released, though, we may not have missed out on much information on matters of security. Via the News, Bloomberg has said that former NYPD commissioner Ray Kelly generally briefed him either by phone or in person.