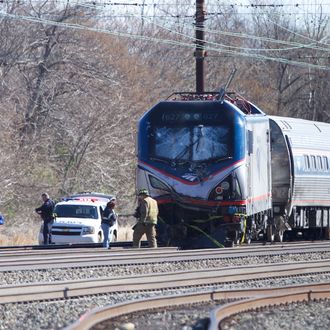 Emergency personnel investigating the crash site.
Photo: Mark Makela/Getty Images
Two people are dead after an Amtrak train crashed into a construction backhoe and derailed south of Philadelphia Sunday morning. According to Billy Penn and CBS Philly, the two people killed were Amtrak workers on the backhoe. No deaths or life-threatening injuries have been reported among the roughly 341 passengers and seven crew members aboard the train, though as many as 35 people were transported away for medical attention. Some witnesses reported seeing a large fireball after the impact, which occurred in the city of Chester, Pennsylvania. Northeast-corridor train travel between Philadelphia and New York, and Wilmington, was suspended for much of the day, but resumed limited service by midafternoon. The derailed train was a Palmetto 89, operating between New York and Savannah, Georgia. The crash is still being investigated.
This post has been updated to indicate that limited Amtrak service resumed later in the day.