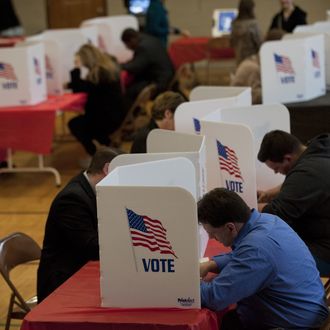 Let this be a lesson: Watch where you put your check marks.
Photo: Jeff Swensen/2016 Getty Images
The American Independent Party, an ultra-conservative political party in California that opposes abortion rights and same-sex marriage and wants to build a Trump-esque fence along the entire United States border, is bigger than all of California's other minor parties combined. With more than half a million members, the AIP calls itself the "fastest-growing political party in California." But a new report from the Los Angeles Times has revealed that more than half of its members registered by mistake.
They were trying to register as independent voters — the correct box on the registration form reads "no party affiliation." But, misled by the word "independent" in the AIP's name, thousands of people accidentally declared their allegiance to a party whose beliefs don't align with their own. And while independent voters (those who checked "no party affiliation") can vote in the state's closed Democratic presidential primary, those registered with the far-right party cannot.
As the Times points out, the mistake could have real consequences in the upcoming California primary, which is one of the most important for candidates in both parties. Although voters still have time to change their registration before the May 23 deadline, there's a good chance many won't find out about the mishap until it's too late.
But the AIP's chairman, Mark Seidenberg, blamed the mishap on people's ineptitude when it comes to paperwork. "I'm sorry that people got confused," he said. "A lot of people just don't understand what they're doing when they fill out a form." Which might or might not be more embarrassing than forgetting to register to vote for your own father.