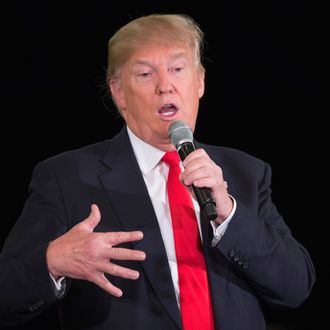 Sad!
Photo: Scott Olson/Getty Images
You might want to sit down for this one: A new poll is out, and it looks like most Americans don't like Republican front-runner Donald Trump.
Yes, hard as it is to believe, the Associated Press–GfK poll released Thursday finds that around 70 percent of adults have an unfavorable view of the man who wants to Make America Great Again, including majorities of men, women, young adults, older adults, conservatives, moderates, liberals, whites, blacks, and Hispanics.
Even constituencies the Donald is counting on to win the Republican nomination and the general election don't like him. His unfavorable numbers approach 70 percent in the South and stand at 55 percent among whites without a college education.
Nearly half of Republican voters view him unfavorably, while more than 60 percent of registered voters and 31 percent of Republicans said they definitely would not vote for him in the general election.
Still more shocking, this is the second national poll in about as many weeks to find that the man with the best words does not have the best public image: A Bloomberg poll released in late March found that Trump was less popular than Congress, with 68 percent viewing him unfavorably and 53 percent "very unfavorably." Sad!