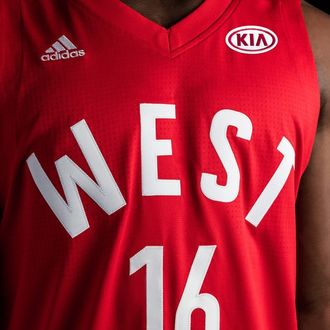 The NBA already put ads on its All-Star Game jerseys this season.
Photo: Adidas
It's long seemed inevitable that NBA teams would one day put ads on their jerseys — mostly because commissioner Adam Silver has explicitly said that it was. But the league's board of governors today made it official: As part of a three-year pilot program starting in the 2017–18 season, each team will be allowed to sell a two-and-a-half-inch-by-two-and-a-half-inch ad on their jerseys, making the NBA the first of the four major professional North American leagues to permit jersey sponsorships on a full-time basis.
The ads will appear on the left shoulder area, while ESPN reports Nike — which will begin producing the league's jerseys in 2017 — will place its swoosh logo on the right shoulder of the jerseys for every team except the Charlotte Hornets. (They'll likely feature the logo of Nike's Brand Jordan subsidiary, as Michael Jordan owns the team.) The NBA says that the jerseys sold to fans at retail won't have the ads, but that the teams have the option to sell a version that includes them in their own retail outlets.
In a statement, commissioner Silver said that "Jersey sponsorships provide deeper engagement with partners looking to build a unique association with our teams and the additional investment will help grow the game in exciting new ways." But he's spoken before about how the league wants not just the money from sponsors, but the free publicity they could offer. From ESPN:
"It's manifest destiny," Silver told ESPN's Rachel Nichols last month. "So let's begin by saying this isn't going to affect the competition. What we're talking about is a patch on the jersey. And one of the reasons we want to do it is that it creates an additional investment in those companies in the league … the amplification we get from those sponsors, those marketing partners of the league, who want to attach to our teams and our players.

"But once they put their name on the jerseys, they'll then use their media to promote the NBA extensively. That's probably the greatest reason for us to do it."
Individual teams will be responsible for selling the ads, which could generate approximately $150 million in revenue for the league and its teams, according to USA Today. The money generated will be shared with the players, according to the terms of the league's collective-bargaining agreement.
The NBA first discussed the possibility of putting ads on its jerseys back in 2009, when the WNBA allowed the practice. And fans got a taste of what the ads might look like at this year's All-Star Game in Toronto, where an ad for Kia appeared on every jersey.