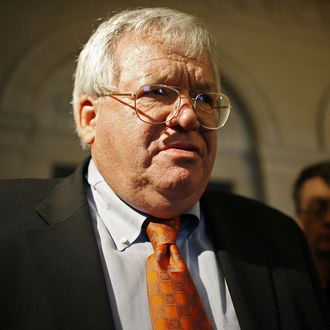 Photo: Chip Somodevilla/Getty Images
Just days before Dennis Hastert will face sentencing for a felony banking crime, one of the men who claimed Hastert sexually abused him as a teenager is suing the ex-Speaker for $1.8 million. The amount represents the remainder of the money — a total of $3.5 million — Hastert promised to pay the unidentified man in exchange for keeping quiet about the alleged abuse during the period Hastert was a wrestling coach at a suburban Illinois high school. 
The man, known as Individual A in court documents, was at the center of the felony case against Hastert, who pleaded guilty to illegally structuring bank withdrawals last year. Those withdrawals were supposedly used as hush money for Individual A, but Hastert ceased the payouts after the federal government began pursuing its case.
The Chicago Tribune reports that Individual A's attorney had threatened a suit back if his client didn't receive the remainder of the agreed-upon compensation. Individual A, who says Hastert sexually abused him in a hotel room on a wrestling trip when he was 14, claimed through his attorney that he now suffers from "severe panic attacks" as a result.
Including Individual A, at least three other men have accused Hastert of molestation. Hastert can't face prosecution for sexual abuse because the incidents took place decades ago and the statute of limitations has long passed.
Hastert will be formally sentenced on Wednesday for the banking crime. Prosecutors have recommended six months in prison as part of the plea deal; Hastert's attorneys are requesting probation because of the ex-Speaker's failing health (he suffered a stroke last year) and his years of public service. At least one of Hastert's alleged victims — but not Individual A — may testify at Hastert's sentencing hearing.