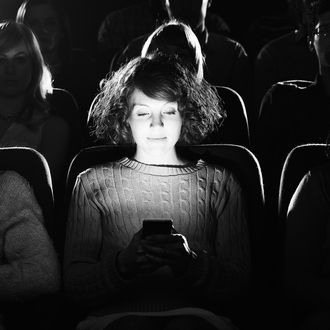 Photo: Brand New Images/Getty Images
We all knew this day would come. Variety is reporting that the CEO of movie-theater company AMC is considering "making some theaters texting and mobile device-friendly" in a bid to attract younger audiences. This is a bad move, but not a surprising one. The young people love to use their apps, and public decorum can frick off.
"When you tell a 22-year-old to 'turn off the phone, don't ruin the movie,' they hear 'please cut off your left arm above the elbow,'" CEO Adam Aron said. "You can't tell a 22-year-old to turn off their cellphone. That's not how they live their life."
That's hyperbolic, but he's certainly not incorrect. The issue with this potential new move is that it explicitly condones using one's phone during a movie, which most people would consider rude.
Using your phone during a movie is a bit like jaywalking. Yeah, you shouldn't do it, but it's often convenient, and who's gonna stop you? The act is self-regulating: If you pull out your phone during a movie, you also accept the potential consequences (a few angry glares, getting called an asshole). Giving audience members carte blanche to whip out their devices whenever they'd like will embolden them and disrupt the unwritten risk-reward system of phone use already in place.
The fact of the matter is that phone use during movies is happening — more and more regularly — whether we'd like it to or not. I'm a senior citizen (25 years old, same difference) with a degree in film studies, so I vote against. Yet I know that this is a losing battle. At this point, I'm just trying to have this transition happen at a natural pace.
As a culture, we've been debating this issue for years. Back in 2013, Anil Dash argued that those who objected to talking and phone use during a screening were engaging in a type of 21st-century colonialism (or something? The argument is … muddled).
In response, Richard Lawson wrote, "the real crux of the matter is that everyone mutually agreeing to do nothing but watch the movie is a more reasonable request, in a logical and even factual way, than expecting everyone to just put up with whatever the person next to them wants to do."
As someone who (gasp) occasionally checks his phone during the movie, I can say that there are ways to check your phone unobtrusively. A little effort goes a long way.
Don't raise your phone up. This is the easiest thing in the world, but some people can't do it, for God knows why. Keep your phone in your lap. If someone behind you can read your screen over your shoulder, the phone is too

 

high.
Turn down the brightness on your screen. Again, this is really obvious but people forget. Swipe that slider all the way left. I guarantee your screen will still be bright

 

enough.

Now here's an expert-level pro move:

Invert the colors

on your screen. Since most apps contain dark text on a light background, inverting the colors makes it much less disruptive to turn on your phone in the dark. On iOS, you can use the settings menu to tie color inversion to triple-tapping the Home button, making it easy to toggle on and off, as

 

needed.
So, yes, phone usage during movies isn't going away any time soon. It probably never will. But we don't need to hasten this process. If I had to bet, for every moviegoer attracted to the idea of texting during a film, there's another who sees it as another reason to avoid the theater entirely.