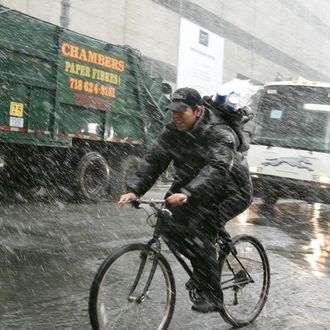 How it's gonna be.
Photo: Don Emmert/AFP/Getty Images
These April showers might be bad news for your flowers: Meteorologists have forecast that precipitation this Saturday could be a mix of rain, sleet, and — you guessed it — snow. As the experts over at New York Metro Weather explain:
>
The National Weather Service says the New York and Long Island area could get between one and three inches of snow, though it's unlikely anything will stick to the pavement and really accumulate. But whether flurries or rain fall from the sky, it's still going to be a miserably cold day once again, with temperatures hovering in the 30s.
We'd love to tell you that springlike times are ahead, but so far, it looks like the next few days are going to be a repeat of this week: a stretch of unseasonably cool weather followed by a little warm-up that also brings lots and lots of rain.