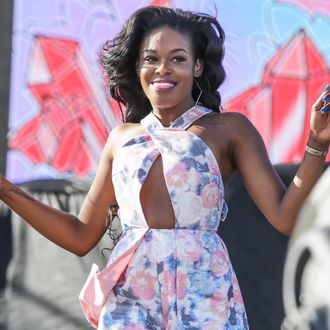 Photo: Chelsea Lauren/WireImages
Many advances in modern technology can seem like magic  — face-swapping, artificial intelligence, driverless cars, hoverboards — but few actually are. Except, uh, this.
Today, an actually (maybe (hopefully)) true story of tech-industry magic surfaced when oft-embattled rapper Azealia Banks promised to hex Twitter CEO Jack Dorsey. Banks says that last year she struck a deal to promote Square, Dorsey's other company. In exchange, he was supposed to promote Banks's new album. As far as we can tell, he did not.
Banks did really promote Square's Cash app — a micropayments system like Venmo or PayPal — last March, but Dorsey's #Promo4Promo has yet to materialize. Representatives for both Square and Twitter responded to queries from Re/Code with cheeky GIFs related to magic which, for your sake, I will refrain from embedding here.
Since Dorsey's alleged deal with Banks was reached, he was reappointed CEO of Twitter, and Square went public. Curious. If you would also like to hire Banks to cast a spell on you, you can presumably pay her via Square Cash.