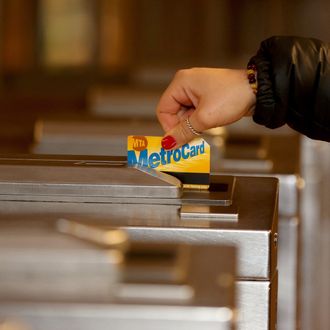 Swipe 'em while you can.
Photo: Bilgin Sasmaz/Anadolu Agency/Getty Images
The MTA has long planned on replacing MetroCards with a new, contactless payment system, and Second Avenue Sagas points out that they've finally taken a major step in making it happen. The agency has released a request for proposals so vendors interested in designing and implementing the new system can submit their plans. Here's how it'll work, according to the RFP: Rather than requiring customers to swipe a refillable card, riders on buses and subways will be able to pay their fare by tapping their own bank card or smartphone to an electronic reader. They'll also have the option of tapping an MTA-issued "smart card."
The MTA had previously planned to issue the RFP in late 2015 and award the contract in mid-2016. Now, proposals will be due on June 23.
In a timeline laid out at an MTA Capital Program Oversight Committee meeting last January, the new payment system would be accepted on buses first, and then on the subways. It'll be a while, though, before commuters (and presidential candidates) can say good-bye to swiping their MetroCards forever. According to the RFP, the contract has a duration of 69 months from the notice of the award to the "substantial completion" of the work.