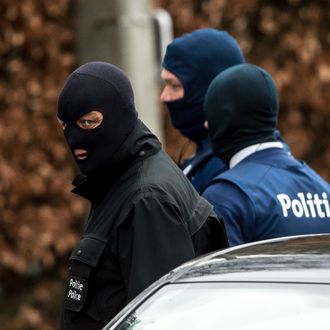 Belgian police conduct a search as part of an investigation into a foiled plot to attack Paris.
Photo: Phillipe Huguen/AFP/Getty Images
Belgian police have arrested and charged another suspect in a foiled terrorist plot to launch an attack in France. The Washington Post reports that the 33-year-old as-yet-unnamed Belgian citizen was taken into custody on Friday, and is believed to have been involved in the plot, which was first uncovered when authorities arrested 34-year-old Reda Kriket in a Paris suburb on March 24. TATP explosives and an arsenal of weapons were then found in Kriket's apartment, and his arrest apparently prevented what authorities called an "imminent" attack. Two Algerians living Belgium were arrested a day later in Belgium, and a French citizen living in Rotterdam was arrested a few days after that. Only three men, including the one arrested on Friday, have been charged in connection to the Kriket plot, but so far none have been connected to the recent attacks in Brussels and Paris. 
Meanwhile, the BBC reports that the Brussels airport will finally reopen on Sunday, 11 days after ISIS-linked suicide bombers attacked the airport and a subway station in the city, killing 32 people. Belgian authorities insist that security will be tighter at the airport, which will reopen for limited service in what the head of the airport is calling a "sign of hope" for the country. Full passenger service isn't expected to resume at the airport until the end of June at the earliest.
Tensions obviously remain high in Europe in the wake of the suicide bombings in Brussels last month, and new reporting from the Associated Press reemphasizes that much more could have been done to prevent the attacks. They point out that one of the Brussels suicide bombers, Ibrahim El Bakraoui, had passed, unimpeded, through airline terminals three times in recent months, and that "testimony from government ministers, extracts of documents and conversations with police, border and aviation officials reveal a series of security gaps, misunderstandings and procedural red-tape that surrounded [Bakraoui's deportation from Turkey last July after he was captured near the Syrian border.]"
Even scarier, Turkey has deported roughly 3,250 suspected "foreign terrorist fighters" like Bakraoui since 2011, so it's possible, and probably likely, that more individuals like him have slipped through as a result of the same problems, especially since, as the AP adds, the deportation procedures and communications failures that led to Bakraoui evading enough attention from authorities are far from abnormal:
There are no enforceable international laws governing deportations, only guidelines and standards. Intelligence sharing is virtually non-existent. European Union agencies are reluctant to share information among themselves let alone with an outsider like Turkey, even if it is a candidate to join the 28-nation bloc. … [Additionally, airlines] are not informed of the reasons for any deportation, whether from Turkey or continental Europe. A risk assessment of the danger a passenger might pose is supposed to be made available to carriers 24 hours in advance, but it's unclear whether this happens routinely or in time.
Back in Belgium, efforts are underway to tackle the pervasive and spectacular dysfunction there, but it remains to be seen whether the country can adapt to its jihadi problem. As The Week pointed out on Friday, most of the country's 640,000 Muslims — who are often second- or third-generation citizens and make up nearly 6 percent of the Belgium's population — remain unassimilated within a country that is paralyzed by a "toxic combination of dysfunctional government, mass immigration, and lax security":
Money is now being poured into Belgium's overwhelmed security apparatus, and the intelligence services are trying to recruit more Arabic-speaking analysts for surveillance efforts. Security officials have also called for the EU to do a much better job of sharing information about potential terrorists. But the best way to tackle Belgium's homegrown problem is to prevent radicalization in the first place, says Yves Goldstein, cabinet chief to the Brussels regional president. That would require integrating ghettos like Molenbeek into Belgian society; diversifying the schools; and bringing in new cafés, businesses, and cultural offerings. "We need to open the minds of these young people," says Goldstein. "What can we do to manage young people who prefer death to life?"