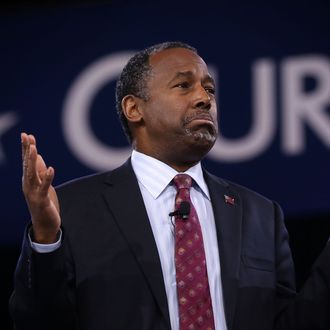 "So he's got a few defects. So what?"
Photo: Alex Wong/2016 Getty Images
Ben Carson is still struggling with the concept of an endorsement. After reassuring America that, even if Donald Trump is a terrible president, "we're only looking at four years," Carson once again admitted Trump isn't exactly his ideal commander-in-chief. When John Catsimatidis asked Carson why he'd endorsed Trump in a radio interview on Sunday, Carson rattled off such positive traits as Trump's parenting skills and business savvy. 
"All of that says quite a bit about a person," Carson said. "Now, does it mean that he's perfect? No. He has some major defects, there's no question about it, but I think he is willing to listen to other people. He may not say that publicly because there is a humility issue there that could perhaps use some polishing."
Perhaps. The former neurosurgeon went on to inspire still more confidence in his chosen endorsee when he said, "Everybody believes that we are weak on the world stage; we are not doing things that make sense economically. And he's probably the person who is most likely to do that. Are there better people? Probably."
Despite the ribbing, Carson maintained Trump is the best option because he's not a member of the so-called "political elite." "I think the Establishment in the Republican Party is scared out of their wits about the possibility of someone like Donald Trump coming in, who they don't have control over," he said. Which is a great reason to endorse someone for president — that or the fact that they maybe, possibly offered you a job in return.