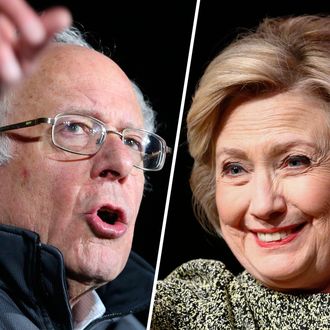 Careful what you say.
Photo: Spencer Platt/Getty Images; Andrew Theodorakis/Getty Images
This incident raised many eyebrows today:
>
Bernie Sanders on Thursday repudiated the remarks of a surrogate who used the phrase "corporate Democratic whores" on Wednesday night during the Vermont senator's rally in Washington Square Park, after Hillary Clinton's campaign demanded an disavowal from the candidate.

Speaking to a crowd estimated around 27,000 people, health care activist and physician Paul Song ripped into those who, like Clinton, insist on a more incremental approach to reforming the health-care system.

"Medicare-for-all will never happen if we continue to elect corporate Democratic whores who are beholden to big pharma and the private insurance industry instead of us," Song said, according to reports.

"Dr. Song's comment was inappropriate and insensitive. There's no room for language like that in our political discourse," Sanders tweeted later Thursday morning.
At first, it looked like Bernie Sanders might be repudiating the tendency of many Democratic progressives to impugn the motives of their center-left Democratic colleagues. But, no: It was all about the use of a gendered slur, particularly when alluding to a woman and her supporters.
"I am very sorry for using the term 'whore' to refer to some in congress who are beholden to corporations and not us. It was insensitive," Song tweeted Wednesday night.
It's a very good thing that the word whore is on its way to being banned as an acceptable term of abuse in Democratic intramural discourse, though I fear Republicans may pick up the slack insofar as anything deemed "politically incorrect" is like catnip to them. But at some point, Democrats both left and center might want to review the tendency to assume that intra-party opponents are corrupt, cowardly, or crazy instead of holding legitimately different views.