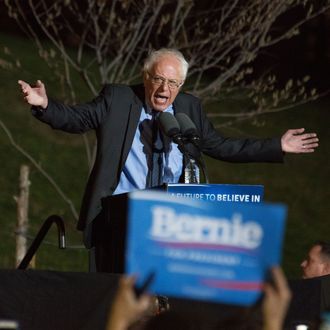 Photo: Albin Lohr-Jones/Pacific Press
Democratic presidential candidate Bernie Sanders will take the Wyoming presidential caucuses, a contest he was favored to win. This is the latest in a nice winning streak for Sanders, who has won seven of the last eight primary contests in a row against rival Hillary Clinton.
Current projections indicate that Sanders will win with a little more than 56 percent of the vote, per CNN. Despite Sanders's rout, the two Democratic candidates will split the delegates evenly, each getting seven of the 14 available in Wyoming. Sanders is also still far behind Clinton in the overall delegate count.
Clinton did not campaign in Wyoming at all, though former president Bill Clinton paid the state a visit earlier this month. Sanders thanked his Wyoming supporters on Twitter:
Both Clinton and Sanders are campaigning Saturday in New York, the next primary state up for grabs. Sanders was in the middle of a speech at an event in Queens, when he learned of his victory in Wyoming from his wife, Jane. "News bulletin," he yelled out to a cheering crowd, "We just won Wyoming!"
New York's Democratic and Republican primaries, which finally matter, are both on April 19. On the Democratic side, there are a whopping 291 delegates for the taking. Clinton holds a decisive lead in New York, with a more than 15-point edge over Sanders, according to recent polling data, but it's a margin that has shrunk considerably from early March polls, when she had about 30-point cushion over her rival. 
This post has been updated to reflect the final delegate count.