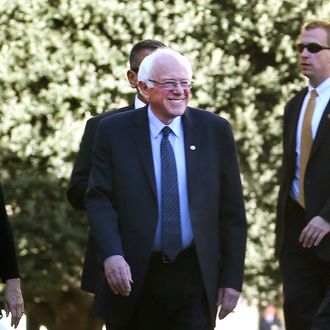 Photo: Franco Origlia/Getty Images
While Pope Francis might not have personally invited Bernie Sanders to the Vatican, he did meet with the presidential candidate while he was there, Politico reports. The unannounced and un-photographed meeting only lasted five minutes, happening in a foyer Saturday morning before the pope left to check in on the migrant crisis on the Greek island of Lesbos. Sanders, who was in town to critique free-market capitalism at a conference, reportedly thanked the pope for being a leader on the "moral economy" and Francis thanked Sanders for stopping by the Vatican and asked him to pray for him. Politico notes that the pope sought the meeting after being unable to attend the event at which Sanders had come to speak.
However, when speaking about the brief audience to reporters afterward, Pope Francis also made sure the insert some political distance. According to the Associated Press, he commented:
When I came down, I greeted them, shook their hands and nothing more. This is good manners. It's called good manners and not getting mixed up in politics. If anyone thinks that greeting someone means getting involved in politics, they should see a psychiatrist.
This post has been updated to include Francis's remarks on the meeting.