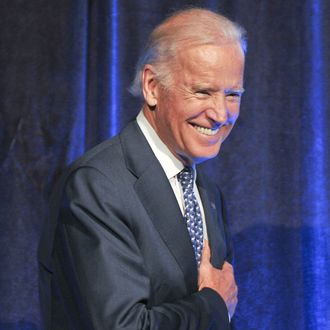 Biden wants Democrats to dream big, which is easy for him to say — he already has a job.
Photo: Jenny Anderson/WireImage
Vice-President Joe Biden still won't pick a side in the Democratic presidential primary race between Hillary Clinton and Bernie Sanders, but he sure likes the Sanders campaign's idealism. Speaking to the New York Times onboard the Amtrak train he customarily uses to commute to and from Washington, D.C., and his home state of Delaware, Biden said he preferred Democrats to aim high in terms of setting goals for progressive policy changes.
"I like the idea of saying, 'We can do much more,' because we can," he said. "I don't think any Democrat's ever won saying, 'We can't think that big — we ought to really downsize here because it's not realistic.' C'mon man, this is the Democratic Party! I'm not part of the party that says, 'Well, we can't do it.'"
Biden rejected the view held by Sanders and some of his supporters on the left that his boss, President Barack Obama, failed to pursue a sufficiently progressive agenda while in office, reminding critics that he and Obama arrived in Washington in 2009 facing a recession, a debt crisis, and obstructionist Republicans in Congress. "We had about eight atom bombs dropped on our desk," he said.
Nonetheless, he added, he thinks it's important for political leaders to push for and talk about the big goals they want to achieve.
Biden's praise for Sanders's approach is not an endorsement of the Sanders campaign, as both he and Obama have chosen not to make endorsements in this election. Indeed, last week, Biden said he'd like to see America elect its first woman president, but quickly clarified that he wasn't endorsing Clinton with that statement, either.
Biden considered running for the Democratic nomination himself and was seen early on as the only serious possible challenger to Clinton, but he bowed out after the tragic death of his son, Beau. He did, however, end the Times interview by reminding Democrats to be a little sad that he's not up for the nomination.
"If you notice, I beat every Republican in every poll when they thought I was running," he said. "You notice that my favorability was higher than anybody that's running for office in either party." Subtle, Joe.