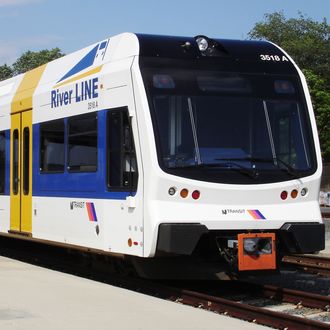 A New Jersey light rail train.
It's increasingly understood that what you do in public may be caught on a security camera, but on some NJ Transit light-rail trains, what you say may be recorded as well. Both video and audio surveillance systems are already in use inside train cars on the River Line, meaning that the transportation agency has the ability to listen in on conversations between passengers. NJ.com reports that transit officials say the audio surveillance is necessary to fight crime, but as more of the systems are installed on trains, critics say it's an invasion of privacy.
"You expect some privacy," Ed Barocas, legal director of the state American Civil Liberties Union, told NJ.com. "You don't have it if you are yelling across the car. If you're sitting next to a person and talking to them and you don't know there is a microphone picking up your conversation, our laws say you have a right to a private conversation."
All trains with the surveillance systems have a sign informing passengers that both video and audio is being recorded inside the car. But Len Resto, the president of the New Jersey Association of Railroad Passengers, believes that the signs should more clearly state that conversations are being recorded. "The sign should say more," Resto told NJ.com. "It should say it's on 24/7. It should state what it is."
An NJ Transit spokesperson says that the agency is in the process of completing the installation of video and audio surveillance systems inside of cars on its light-rail fleet. They've already been installed on the River Line cars (at a cost of $750,000), and are being installed now on the Hudson-Bergen and Newark light rails (for another $1.9 million, funded by a federal Homeland Security grant).
"Passengers have repeatedly told the agency that security is a priority in the quarterly scorecard surveys of riders, Jim Smith, an NJ Transit spokesperson, told NJ.com. "The onboard surveillance systems are also a deterrent for crime and unruly behavior."
Smith declined to tell the site what NJ Transit's policies are for storing surveillance recordings, who has access to them, and whether they are destroyed after a certain period of time.