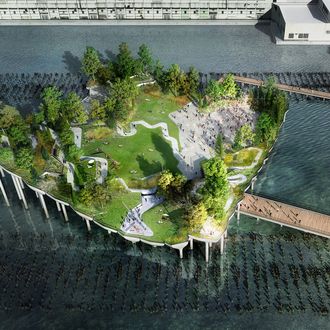 Coming soon.
Photo: Pier55, Inc./Heatherwick Studio
Bernie Sanders will tell you America has a problem with its millionaires and billionaires, but if one happens to build your city a fancy floating park, does he get a pass? Construction on Pier 55 — the 2.7-acre Hudson River park funded in very large part by IAC Chairman Barry Diller and Diane Von Furstenberg — is officially set to begin this summer. Crain's New York reports that the U.S. Army Corps of Engineers gave the final okay on Wednesday, clearing the way for building to begin on this island off West 13th Street.
The Hudson River Park Trust will maintain the park in conjunction with Diller's P55 nonprofit, which has given $113 million toward its creation. The floating pier will have green lawns and walkways and a large outdoor amphitheater. It likely won't be open until 2018, at which point you can look forward to walking extremely slowly behind a mass of visiting tourists.