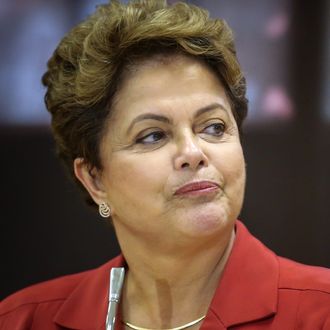 Things aren't looking good for Rousseff.
Photo: JEFFERSON BERNARDES
After months of turmoil, 367 of the 513 members of Brazil's lower house voted to impeach Brazilian president Dilma Rousseff on Sunday. As the 342nd vote was cast for impeachment — the number needed for a two-thirds majority — the house floor erupted in celebration. The vote now passes to Brazil's Senate, where lawmakers must vote by simple majority whether Rousseff ought to be impeached on charges of manipulating budget accounts, Reuters reports.
If the Senate also votes to impeach her, Rousseff will be suspended and replaced by Vice-President Michel Temer pending her trial. If Rousseff is found guilty, Temer will serve out the remainder of her term, which lasts until 2018. But even if Rousseff is ousted, Temer's government will likely be forced to deal with a power struggle between her Worker's party and conservative antigovernment factions.
Rousseff stands accused of buoying the finances in government accounts with a temporary transfer just as she was up for reelection. According to The Guardian, supporters say her relatively tame infraction is being used by the opposition as an excuse for a coup.
Although Rousseff's chief of staff told Reuters that he's "confident the Senate will dismiss the impeachment,"most analysts say it's likely the Senate will go along with the lower house's decision. Rousseff has repeatedly denied any wrongdoing and has said she won't resign.