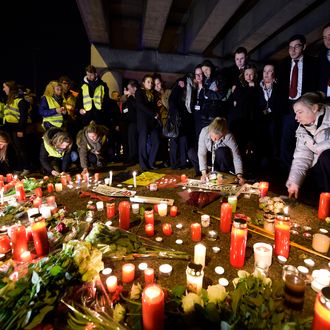 The group of men who bombed Brussels's Zaventem Airport and Maelbeek metro station in March had originally planned to attack targets in France, according a statement released by the Belgian federal prosecutor's office. 
From the New York Times:
The specific targets in Paris were La Défense, a large office and commercial complex just northwest of Paris, as well as an unidentified Catholic association, said Claude Moniquet, a former French intelligence officer who now works in Belgium and who has been in regular contact with investigators.

La Défense would be both a symbolic target and an important economic one for terrorists. Tens of thousands of people work in the large complex, which includes the offices of many of France's major companies, including Areva, Total and Société Générale. Many multinational companies also have substantial offices there.

La Défense is also home to a sprawling indoor shopping mall and a train station for two of the busiest commuter lines in the Paris region.
"Numerous elements in the investigation have shown that the terrorist group initially had the intention to strike in France again," said the Belgian prosecutor's statement. "Surprised by the speed of progress in the investigation, they took the decision to strike in Brussels." The announcement comes a day after the arrest of Mohamed Abrini, a 31-year-old Belgian and Moroccan citizen who is believed to have played a role in both the Zaventem bombing and the attacks in Paris last November.