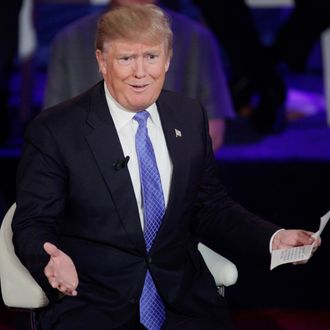 Make Donald Trump Sad Again
Photo: Darren Hauck/Getty Images
Donald Trump's narrow path to a pre-convention majority turned into a tightrope Tuesday night, when Ted Cruz claimed 36 of Wisconsin's 42 delegates. A new poll suggests that rope will snap on June 7 in California.
Trump leads Cruz in California 39 to 32 percent, with John Kasich in a distant third, according to a new poll for Field Research, a firm renowned for its accuracy. That's an improvement for Trump on his showing in Field's last poll of the race back in January, when he trailed Cruz by two points in a far more crowded race. But to avoid a convention fight in Cleveland, the Donald needs to strike gold out West, and if this survey holds up, Trump's lead will prove to be pyrite.
Trump needs to win roughly 60 percent of the remaining delegates to secure the nomination. California — with its 172 delegates and affinity for celebrity politicians — offers Trump his best opportunity to hit his mark. But the Donald has a problem: Only 13 of those delegates go to the statewide winner. The rest are divided across the state's 53 congressional districts, with each district bestowing three delegates on the local favorite. And Field's poll shows Cruz holding a 40 to 29 percent advantage over Trump in Los Angeles County, which encompasses more than a third of all of those districts. Cruz also boasts a nine-point lead in the Central Valley. If those numbers hold up, Cruz should take at least 70 delegates from the Golden State, more than enough to force a fight in Cleveland.
Notably, the demographic most likely to vote for Trump in California is "fans of the Governator" — Trump leads 54 to 21 percent among those who backed Arnold Schwarzenegger in the 2003 recall election. (This fact may also reflect Trump's advantage with voters over 50, who are much more likely to have participated in an election 13 years ago than their more youthful compatriots.)
As is the case elsewhere, the fact that Trump is a transparent misogynist appears to be hurting him with female voters in the Golden State, while ostensibly helping him among men: Trump has a 17-point lead over Cruz with the latter, but a 4-point deficit to the Texas senator with the former.
Finally, despite his claims to the contrary, the poll shows that Trump is no "unifier." Thirty-eight percent of California Republicans say they would be dissatisfied if Trump wins the nomination, while more than a third say the same of Cruz. It's not clear whether Trump really has always had a ceiling on his support, as many pundits once predicted, or whether Trump pulled that ceiling down over the last few weeks by praising political violence, tacking to the right of the pro-life movement on abortion and then to its left, and contemplating dropping an atomic bomb on Europe. Regardless, Trump has yet to crack 50 percent in any contest. As the Washington Post's Philip Bump notes, it was at this point in the 2012 race that Mitt Romney pulled away, winning a majority of the popular vote in all of the remaining primaries. Trump is the GOP front-runner, but he's an exceptionally weak one.
Still, a majority of California Republicans told Field that if Trump goes into the convention with a plurality of the vote, as he almost certainly will, then he should be the nominee. Trump may be an unpopular front-runner, but Republicans appear to take an even dimmer view of Establishment bigwigs making deals in smoke-filled rooms.