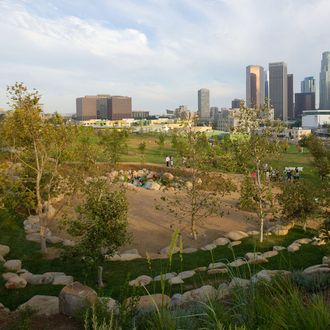 Vista Hermosa Natural Park
Photo: Tom Lamb/Courtesy of Mia Lehrer + Associates
Can a car-loving city of sprawl embrace shared space and public transit? This week, New York's architecture critic, Justin Davidson, delves into the wave of new buildings and parks that are redefining Los Angeles, beginning with anUrbanist Guide to Los Angeles's Wildly Inventive New Architecture.
Affluent Angelenos like to own their outdoors, or at least pay heftily to use them. Aerial photos show Los Angeles chopped up into irrigated enclaves of privilege: decks, pools, lawns, golf courses, restaurant patios, country clubs. The beaches are public, of course, and some miraculous patches of hilly wilderness like Griffith Park or Topanga State Park reach deep into the metropolis, juxtaposing remote hiking trails with surreal city views. But for decades the classic urban park, in the sense of a shared, shaded refuge for the harried masses, remained an afterthought.
In recent years, though, the city has begun to rediscover the overlap of nature with civic life, especially in downtown areas starved for open space. In 2012, the firm of Rios Clementi Hale carved Grand Park out of the once-depressing asphalt mall that steps down from the Music Center to City Hall. The park enfolds a midcentury fountain built like a concrete soup bowl, which the architects repurposed as the centerpiece of a wading pool. Segmented by streets, gridded by walkways and don't-touch plant beds, and scattered with fuchsia café furniture, the park feels more like a decorous French jardin than a natural retreat. The difference is that it's run by the Music Center and heavily programmed with yoga sessions, public readings, concerts, arts festivals, and convocations of food trucks. It will take a beating from a happy crowd. Tendrils of public space also reach out from the park to the bowers that wrap Walt Disney Concert Hall and the grove of ancient olive trees next to the Broad Museum. An office worker with a brown bag lunch now has a whole menu of options for where to eat it.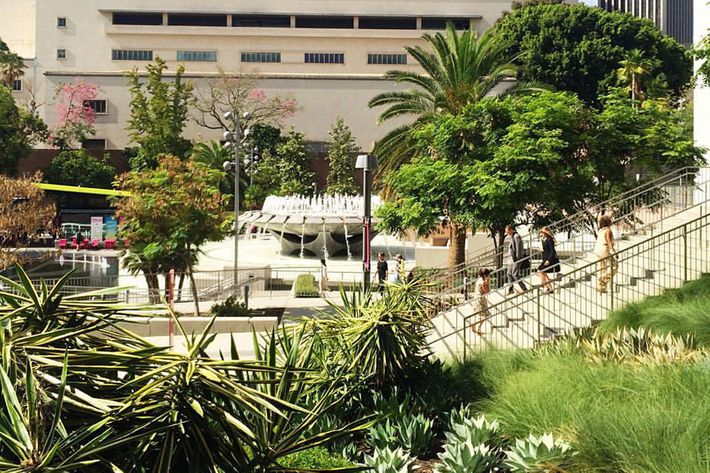 Grand Park is seeding hopes for the future, too. A consortium of elected officials and local businesses put out a call for ways to reshape perpetually unloved Pershing Square and stitch it back together with surrounding streets. Ideas have flowed in, and been winnowed down to a final four. A few blocks away, a city-run competition to remake the site of a now-demolished office building into FAB (First and Broadway) Civic Center Park also attracted a glittering array of design teams. Of the four finalists, the most promising, yet still overreaching, is Rem Koolhaas's firm OMA, working with Mia Lehrer Associates. In the group's vision, a two-story café pavilion practically levitates above a set of bleachers and a performance plaza. Mistrusting actual trees to provide enough shade or environmental benefits, the designers propose to supplement them with a stand of tree-like canopies topped with solar panels. This LA-style overreach—why settle for the real thing when you can have a fake? — is especially puzzling because if there's anyone who understands the Southern California symbiosis of urbanity and nature, that would be Mia Lehrer.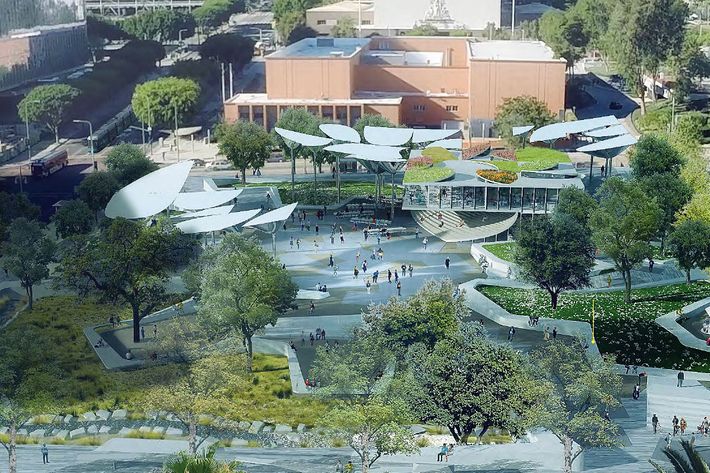 I spent time with Lehrer at her studio in near the Los Angeles River, and she helped me to understand that landscape designers in California no longer enjoy the luxury of coercing plants, soil, and water into doing what they want. Nature in Southern California can be stingy and violent, and the cost of defying it is high.  
So if the two downtown competitions raise anxiety as well excitement, and Grand Park seems like a promise half-fulfilled, two of Lehrer's other projects suggest what a great urban arcadia might look like. The first is Vista Hermosa Natural Park, where pathways wind among profusions of native plants, clustered boulders, quiet streams, and secluded picnic areas, to a generous grassy bowl. Birds argue and natter in the brush. The day I visited, a young couple idled astride a concrete serpent in a playground with a killer view. From there, the downtown towers look like a stage set, seemingly close enough to hit with a Frisbee yet moated by the 110 Freeway. That pleasing dislocation, the contrast between bucolic seclusion and vertical architecture, gives Vista Hermosa the quality of a miniature Central Park.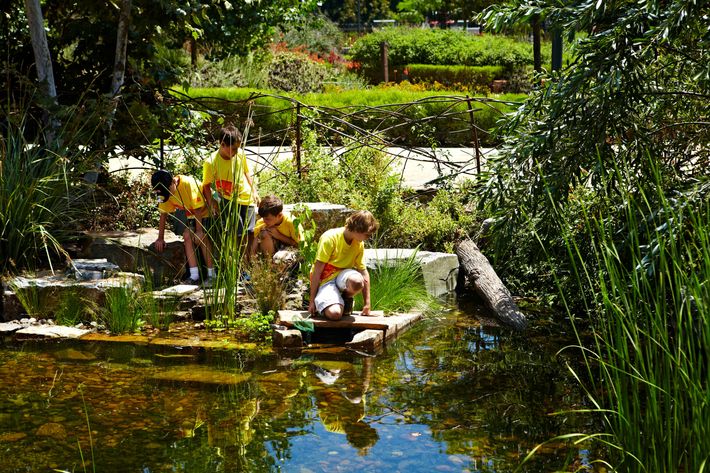 Patrolling her creation, Lehrer murmurs approvingly at the path-bordering plants that, even after so many dry years, have sprung up into a wall of greenery. Even though the full force of the drought hadn't hit a decade ago, when she was designing the park, Lehrer was trained to respect tough local plants. Sycamores, sage, and chaparral grip the steep hillside, reproducing the ecosystems of the nearby Santa Monica and San Gabriel Mountains. Still, she remarks, it might have been wiser to locate the thirsty alders that shade the playgrounds farther downhill where rainwater, if any, flows into a hidden cistern. And those suspiciously Eastern-looking lawns look self-indulgent to her now. "I would have preferred a native meadow, but at that time, people were still adjusting to the grey tones of the California landscape rather than the intense green of an east coast park. It was about changing people's perception."
Nature is often an abstraction to city kids, and Lehrer wants them to be able to learn about it by touching, smelling, and listening. In her new gardens at the Natural History Museum, children grub for bugs, crawl in the dirt, get soaked, and keep an ear out for bees. A wall of stones, cacti, and desert flowers blunts the traffic noise from Exposition Boulevard and concentrates the scent of sun-heated herbs. These sensual moments don't show up in a rendering of a future park, but when it comes to weaving greenery through the urban fabric, they're all that really counts.