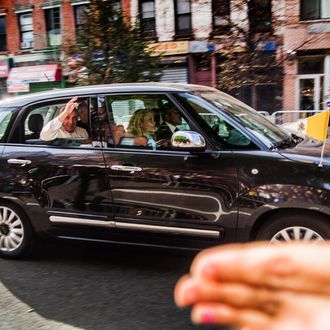 Pope Francis in one of the Fiats donated to the New York Archdiocese for his visit last year.
Photo: Konstantin Sergeyev
Most cars decrease in value the second they're driven off the lot. But if you're the pope, using a car only makes it more valuable. To raise money, the New York archdiocese auctioned off one of the cars used by Pope Francis during his visit to New York last year, and despite a list price of $24,695, the 2015 Fiat 500 Lounge Hatchback sold yesterday for $300,000 on the website Charitybuzz to philanthropist and businessman Miles Nadal, who has a collection of more than 130 cars and motorcycles.
The car was one of six that Francis used on his visit to the United States last September, and according to the auction page, the Secret Service confirmed that His Holiness did indeed ride in the car. (Nadal will receive a certificate of confirmation from the archdiocese saying as much.) Chrysler donated two Fiats each to the archdioceses in New York, Philadelphia, and Washington. They were used only to chauffeur Francis around, as he rode in a specially designed Jeep Wrangler during public appearances. (The archdiocese of Philadelphia auctioned off one of its cars for $82,000.) According to the Times, the New York archdiocese hasn't decided what to do with its second car. The money raised with this one will go to Catholic schools and other charities.
"This car is special to me since I am a collector thrilled to own such a unique piece of history," said Nadal in a statement released on Friday, when the final sale price was announced. "As a Jew, I am interested in helping all communities and appreciate any opportunity but particularly this one, to be able to contribute to organizations benefitting children."
The car gets 31 miles per gallon in the city (40 on the highway), and comes with 15-inch aluminum alloy wheels, an Alpine premium sound system — and a blessing from Archbishop Dolan, on a date to be arranged with Nadal.