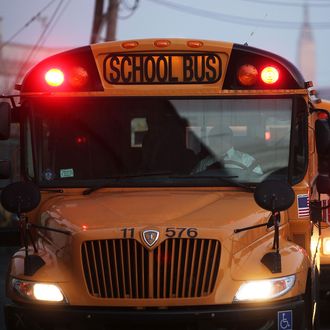 Speed 3: School Control
Photo: Spencer Platt/Getty Images
Last week, the CIA performed a regular "joint training exercise" for bomb-sniffing dogs at Briar Woods High School in Loudoun County, Virginia. To give those canines a proper olfactory challenge, our elite intelligence agency, along with the local sheriff's department and fire marshal's office, decided to hide some explosive material in the "engine compartment" of a school bus. Which makes sense, since the dogs need to be prepared for the day when ISIS decides to put explosive material in a small town's school bus before calling ahead to say, "Hey, this is ISIS, there's some explosive material in one of your school buses, but we're not going to say which one, so unless you have some very high-quality bomb-sniffing dogs, score this one for the caliphate."
Plus, a school bus is just a very safe place to hide explosive material for dogs to find because it's not like you're ever going to just forget about the explosive material you left in a vehicle that's used for transporting children.
On Friday, the Loudoun County sheriff's office announced that the CIA had left explosive material in a vehicle that's used for transporting children.
"As part the training exercise last week, canine explosive detection training was conducted in areas inside and outside of the high school. During the outside portion of the training, the training material was hidden inside an engine compartment of the bus. At some point, a portion of the material appears to have been dislodged from the container and fell into the engine compartment of the bus and was not recovered following the training."
According to a statement from the school district, obtained by NPR, the bus bearing the material "made eight runs totaling 145 miles carrying 26 students attending Rock Ridge High School, Buffalo Trail Elementary School and Pinebrook Elementary School."
However, the sheriff's office assured local parents that their children were never in any danger, as the material is "incredibly stable" and requires a special detonator to ignite.  
Thank God the CIA isn't entrusted with anything truly dangerous.