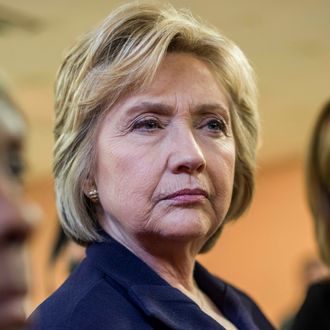 Not impressed with the Donald's name generator.
Photo: Melina Mara/The Washington Post
As he has done with previous political rivals, Donald Trump appears to have come up with a moniker for potential general-election opponent Hillary Clinton. The GOP front-runner has recently started calling Clinton "Crooked Hillary," but she insisted on Sunday that she won't be responding to it or any of Trump's insults. Instead, appearing on ABC's This Week, Clinton simply shrugged off the new Trumpism, which the New York Times notes seems to have replaced the "Incompetent Hillary" insult Trump had previously been brandishing against the Democratic front-runner.
"He can say whatever he wants to say about me, I really could care less," she remarked to This Week host George Stephanopoulos. 
"I don't respond to Donald Trump and his string of insults against me. I can take care of myself. I look forward to running against him if he's the Republican nominee if I am the Democratic nominee," she added, insisting she was much more concerned about Trump going after other people like women, Muslims, and immigrants.