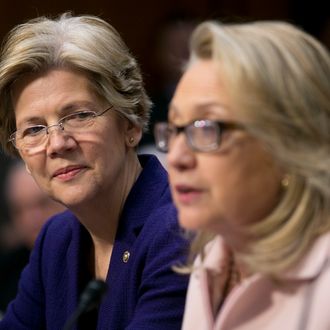 Maybe.
Photo: Andrew Harrer/Bloomberg via Getty Images
The New York Times reports that Hillary Clinton's presidential campaign has begun to discuss potential running mates, aiming to come up with a list of some 15 to 20 candidates to start vetting over the next few months. They note that while Clinton is still wary of the ongoing nomination fight with Bernie Sanders, she's "confident enough of victory that she has described a vision of a running mate and objectives for the search." Washington lawyer James Hamilton will handle the vetting, as he did for President Obama in 2008.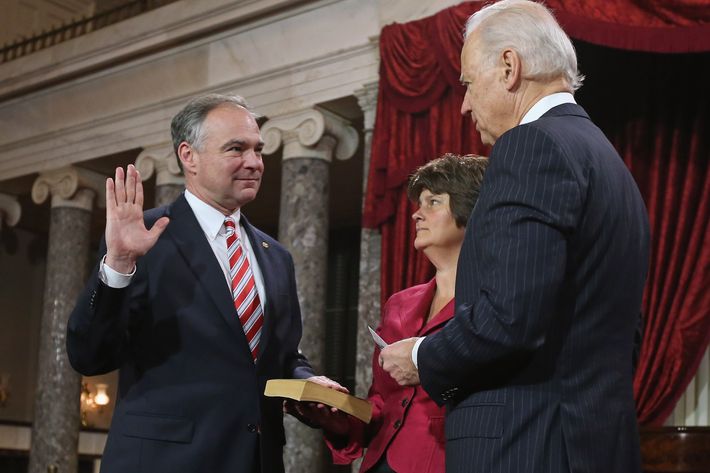 Potential concerns on the radar apparently include a candidate's ability to deal with the outsized role of potential first spouse Bill Clinton, and whether or not an all-woman ticket would fly with American voters, with Senator Elizabeth Warren expected to get a look. The Times adds that the marching orders from Clinton are that she cares "less about ideological and personal compatibility than about picking a winner." In addition to Warren, the candidate list includes Democratic Senators Tim Kaine and Sherrod Brown, former governors Mark Warner and Deval Patrick, and Obama's labor secretary, Thomas E. Perez. Regarding her lack of an ideological prerequisite, the report indicates that Clinton is not worried about wooing Sanders supporters and is presuming, as polling data supports, that most Berners will come around in November, and that her unfavorability ratings will get better once the GOP nominee is set.