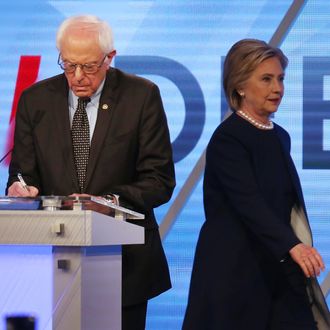 The Debate-Dating Game.
Photo: Joe Raedle/Getty Images
The Clinton and Sanders campaigns are both accusing each other of rejecting their proposed dates for a debate in New York ahead of the state's April 19 primary, according to ABC News. Clinton campaign spokesman Brian Fallon said in a statement Saturday, "Over the course of the last week, we have offered three specific dates for a debate in New York, all of which the Sanders campaign rejected," adding that the Sanders campaign "needs to stop with the games." Sanders campaign communications director Michael Briggs then responded that while they were "very pleased" that Team Clinton had agreed to a New York debate, "the dates and venues she has proposed don't make a whole lot of sense." One proposed date, April 4, is the night of the NCAA basketball final. It's not clear why the other proposed dates, an evening debate April 14 and one on ABC's Good Morning America on April 15, were not agreeable to the Sanders operation. Briggs said they themselves had suggested other dates, which the Clinton campaign had rejected. 
That either campaign still can't seem to agree on something as routine as debate scheduling is but the latest spat in an increasingly contentious nomination battle between the two candidates, though both reiterated their desire to pick a date on the Sunday morning political talk shows and expressed confidence that the scheduling war of wills would eventually be resolved.
New York will award 291 delegates, the second-largest remaining haul behind the 546 California will award in early June. Ninety-six delegates are up for grabs in Wisconsin on Tuesday.