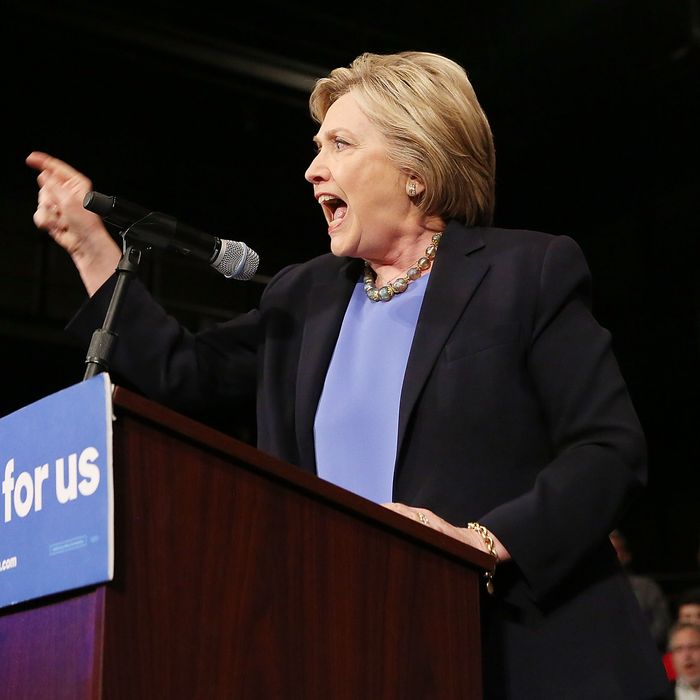 Clinton to Sanders: "Why you always lying?"
Photo: Spencer Platt/Getty Images
The Democratic battle for New York is heating up as the state's primary draws nearer, and Hillary Clinton is fighting to win. She started strong with an event at Harlem's Apollo Theater Wednesday night, where she laid out her case against Sanders before an enthusiastic crowd. But on Thursday night, after her speech in Purchase, New York, was interrupted by Sanders supporters, she responded more forcefully to an environmental activist who questioned her about rejecting donations from fossil-fuel companies.  
"I do not have — I have money from people who work for fossil-fuel companies," Clinton said. The environmentalist tried to follow up, but Clinton overrode her: "I am so sick of the Sanders campaign lying about me," she said, punctuating each word with a finger jab. "I'm sick of it."
A spokesperson for Sanders backed the activist up, telling CNN that Clinton "has relied heavily on funds from lobbyists working for the oil and gas industry," but a Clinton spokesperson maintained that the campaign "has not taken a dollar from oil and gas industry PACs or corporations." He went on: "The simple fact is that the Sanders campaign is misleading voters with their attacks."
Clinton hasn't taken donations directly from oil and gas companies — that's against election law — but she has reportedly accepted more than $300,000 from people who work for those companies. (By that math, Clinton's rep said Sanders has taken $50,000.) 
Earlier in the evening, Clinton took aim at Sanders for his response to Donald Trump's questionable abortion remarks. "Last night Senator Sanders agreed that Donald Trump's comments were shameful, but then he said they were a distraction from, and I quote, 'a serious discussion about the serious issues facing America,'" she said. "To me, this is a serious issue. I have fought on this issue. And I know, given what's happening in states across our country, we need a president who is passionate about this."
Only a few minutes later, Clinton's speech was interrupted by a group of Sanders supporters who stood up to chant, "She wins, we lose." As they were led out, Clinton said she "regrets" they "don't want to listen to anybody else." She went on, "What I regret is they don't want the contrast between my experience, my plans, my vision, what I know I can get done and what my opponent is promising."
Sanders has attacked Clinton many times over the source of her campaign funds, but today's escalation in tensions signals the lengths to which both candidates are willing to go to clinch New York. As Eric Levitz pointed out in New York, "New York offers Clinton a chance to effectively end Sanders's hopes in April." If she can win a decisive victory here, there's no way Sanders could catch up. If she loses in her adoptive home state, however, the defeat could dog her for the rest of the campaign.