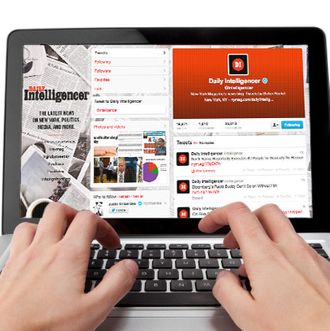 Welcome back, after our brief hiatus, to the New York Magazine Competition. On alternate Mondays (or, this week, Tuesday), we lay out a challenge and offer sample responses. Enter in the comments section or on Twitter with the hashtag we've provided, and the editors will select a winner. Criteria are highly subjective, but heavily retweeted and favorited posts will have an advantage. The prize is a year's subscription to New York in print or a two-year subscription to the iPad edition (winner's choice). Full rules are here.
COMPETITION NO. 69: "LAST-WORD DEFLATION." Please ruin the effect of a familiar title or phrase by adding a word at the end. For example:
MAKE AMERICA GREAT AGAIN ALREADY

"LOUIS, I THINK THIS IS THE BEGINNING OF A BEAUTIFUL FRIENDSHIP BRACELET."

"HASTA LA VISTA, BABY GAP." 

"YOU TALKING TO ME? THEN WHO THE HELL ELSE ARE YOU TALKING TO—YOU TALKING TO ME? WELL, I'M THE ONLY ONE HERE … HELLO?"
Enter on Twitter with the hashtag #lastworddeflation, or in the comments thread below, by April 21.
RESULTS OF COMPETITION No. 68, "REPLACE A WORD WITH SANDWICHES," in which you were asked (after Chris Hayes's reference to "Bernie Sandwiches") to modify a familiar title or phrase thus.
HONORABLE MENTION TO:
If you see something, say "sandwiches!"
—AlienIncognito
I made him sandwiches he couldn't refuse.
—rmtmiller
Say hello to my little sandwiches.
—rgqueen
Nobody puts Baby in a sandwich!
—MiddleCoastDan
Sandwiches and Sensibility
—Econpete
She's my sister, my sandwich! She's my sister and my sandwich!
—nycityofmind
I did not have sandwiches with that woman.
—RustyShackelford
Remembrance of Sandwiches Past (or, In Search of Lost Sandwiches)
—@isabelkaplan
I did Nazi that sandwich.
—Low.IQ.Commenter
Chicken Soup for the Sandwich
—BambooLounge
Sticks and stones may break my bones but sandwiches will never hurt me.
—@and_read
Yesterday I shot a sandwich in my pajamas. How it got in there, I'll never know.
—Lexxman
I have a dream that my four little children will one day live in a nation where they will not be judged by the color of their skin but by the content of their sandwiches.
—CaptServo
We built this sandwich on rock and roll.
—@BoberPeter
These are not the sandwiches you're looking for.
—burnsidej
Make sandwiches great again.
—McKirk
Baseball is 90% mental and the other half is sandwiches.
—SHAKEORBAKE
Hell is other sandwiches.
—bcomcdeezy
When life gives you sandwiches, make lemonade.
—3North
And I guess that was your sandwich in the woodchipper.  
—@debfreedman1 
God does not play dice with sandwiches.
—clippityclop
Mother! Oh, God, Mother! Sandwiches! Sandwiches!
— BobKopac
At night, all sandwiches are gray.
—VillagesBob
I have eaten
the sandwiches that were in
the icebox 
and which you were probably
saving
for breakfast…
—BENLINUS99
Eventually, all things merge into one, and a sandwich runs through it.
—sizzzzlerz
Eternal Sunshine of the Sandwich Mind
— KalinkaNYC
"I want the sandwiches!"
"You can't handle the sandwiches!"
—gianna13
AND THE WINNER IS:
It puts the sandwiches in the basket.
—haunt_fox