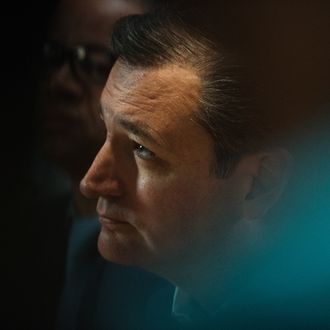 Cruz's reception in New York was chilly.
Photo: Bryan Thomas/2016 Getty Images
Back in January, Ted Cruz made the mistake of assuming the rest of America still hates New York. His dismissal of "New York values" didn't endear him to the Empire State — Governor Cuomo demanded an apology from Cruz, and the New York Daily News did what the New York Daily News does best —  and as expected, the comment came back to haunt him as he campaigned in the Bronx on Wednesday. 
After he met and greeted a reportedly thin crowd of supporters, Cruz explained that "the people of New York know exactly what those values are." They are, he clarified, "the values of the liberal Democratic politicians that have been hammering the people of New York for some time," and have nothing whatsoever to do with actual New Yorkers, whom he thinks are great and whose interests he totally represents.
Cruz attempted to hammer this point home by criticizing a contentious New York figure. "When Bill de Blasio took office, one of the first things he did was try to shut down charter schools in Harlem because he's captive to the union bosses who control him," Cruz told MSNBC. "One of his first actions was to try to throw young African American and Hispanic kids out of the schools that were giving them hope and giving them a lifeline."
He also took issue with de Blasio's handling of "confrontations between criminals and police officers," saying "liberal Democrats" such as he "side with the criminals and the looters and the rioters rather than the police officers." When members of the NYPD publicly turned their backs on de Blasio last year, Cruz said he "cheered for those New York cops" along with "the rest of America." 
Naturally, Mayor de Blasio's office was not pleased with this characterization. A few hours after Cruz wrapped up his Bronx appearance (a second appearance at a nearby school was canceled because students threatened to protest), the mayor's office released "some friendly advice for Ted Cruz":

Be a leader. Be a man. Start sounding more presidential and less extremist. Talk about NYC's job growth, low crime rates, need for more affordable housing, parental leave and the city's successful pre-K effort. Bring people together. Stop dividing them.
Meanwhile, at a massive rally in Long Island, Donald Trump, who's polling ahead of Cruz in New York by a wide margin, used the senator's remarks against him. "Do you remember during the debate when he started lecturing me on New York values like we're no good?" Trump asked the crowd. "Folks, I think you can forget about him." 
Cruz, however, remained optimistic. "The interesting thing about polling is it can change, and it can change quickly," he said, evidently choosing to ignore both the protesters at his own event who called him a "right-wing bigot" and the thousands of New Yorkers who took a liking to his Trump-given nickname.