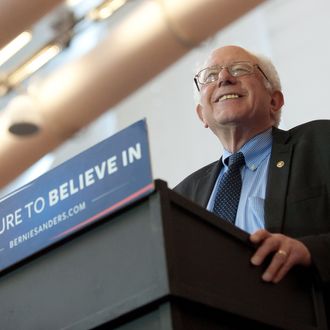 Sanders' campaign will maintain its momentum moving into the East Coast primaries.
Photo: Jeff Swensen/2016 Getty Images
Almost immediately after polls closed in Wisconsin at 9 p.m. EST, multiple outlets named Bernie Sanders the projected winner of that state's Democratic primary. Exit polls showed Sanders ahead by a wide margin with all precincts reporting he led Hillary Clinton by 14 points, according to the New York Times.
Results were just as rapid on the GOP side, with Ted Cruz pulling ahead of both Donald Trump and John Kasich early on and managing to maintain his lead. With all precincts reporting, Cruz held 48 percent while Trump had 35 percent and Kasich 14 percent. Both Sanders and Cruz had been heavily favored in Wisconsin polls all week.
In Cruz's victory speech, he called the Wisconsin primary a "turning point" and humbly reassured the American people that they "once again have hope for the future." As part of his ongoing appeal to women voters — particularly in light of Trump's recent abortion gaffe — Cruz also praised his mother for "shattering glass ceilings" and told the audience, "strong women can accomplish anything in the United States of America." 
Cruz kept his remarks relatively short, but Sanders went on for almost 30 minutes, reiterating his stance on things like student-loan debt, climate change, and wealth inequality. As he brought his speech to a close, Sanders focused on the future, telling supporters: "If you ignore what you hear in corporate media, the facts are pretty clear. We have a path toward victory. I believe we've got an excellent chance to win New York." 
Shortly after results were announced, Clinton tweeted her congratulations to Sanders. Trump's concession, however, never came. Instead, his campaign released a statement to Washington Post reporter Robert Costa calling Cruz "worse than a puppet." "Lyin' Ted Cruz had the Governor of Wisconsin, many conservative talk radio show hosts, and the entire party apparatus behind him," the statement read.
Donald Trump is many things, but a graceful loser is not one of them. 
This post has been updated throughout.