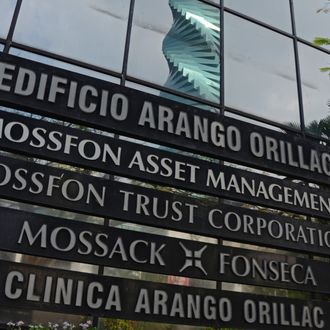 The Mossack Fonseca law firm offices in Panama City.
Photo: Rodrigo Arangua/AFP/Getty Images
A massive leak from one of the world's top offshore services companies has exposed the hidden wealth of the world's elite, including world leaders, politicians, businesspeople, and celebrities from more than 200 countries. The "Panama Papers" leak, which includes roughly 11.5 million documents comprising nearly 40 years of day-to-day data, came from the Panama-based law firm Mossack Fonseca, the world's fourth-largest offshore services company and a top creator of the shell companies used by wealthy to hide their assets. Their clients, whose offshore holdings in 21 tax havens have been revealed by the leak, include 12 current and former world leaders and another 128 politicians and public officials from more than 50 countries. The documents demonstrate how Mossack Fonseca has helped its clients launder money, avoid sanctions, and evade taxes — though it's worth noting that the company denies any wrongdoing and has never been accused of, or charged with, any crimes. Also, as the Guardian points out, not everyone who uses offshore structures is a criminal, though many are, and having or using an offshore company is sometimes a perfectly ethical and logical way to conduct certain types of international business transactions.
The International Consortium of Investigative Journalists, comprising some 370 journalists from 107 media organizations in 78 countries, including the Guardian and the BBC, have spent a year analyzing the leak, which was originally obtained by the German newspaper Süddeutsche Zeitung. The identity of the source has not been revealed.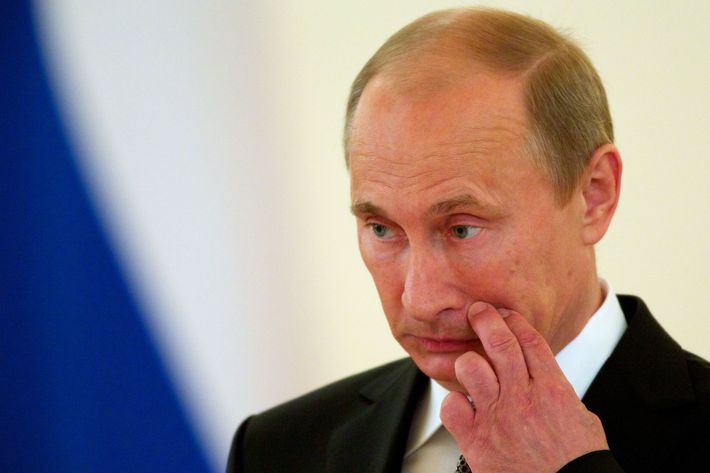 World leaders of note whose assets and dealings have been exposed by the leak include Russian President Vladimir Putin, whom the Guardian has linked to some $2 billion in wealth, as well as Pakistani prime minister Nawaz Sharif, Ukrainian president Petro Poroshenko, King Salman of Saudi Arabia, and Iceland's prime minister, Sigmundur Davíð Gunnlaugsson, who is already facing calls for a snap election over the leak. The BBC reports that the documents ultimately detail offshore services linked to 72 current or former heads of state, "including dictators accused of looting their own countries" like Syrian president Bashar al-Assad and former Egyptian president Hosni Mubarak.
Regarding Putin, the Guardian reports that the leak shows how billions of dollars in secret offshore deals and loans have made Putin's inner circle "fabulously wealthy":
Though the president's name does not appear in any of the records, the data reveals a pattern — his friends have earned millions from deals that seemingly could not have been secured without his patronage. The documents suggest Putin's family has benefited from this money — his friends' fortunes appear his to spend.
The leaked emails, spreadsheets, and corporate records also pertain to the holdings of numerous political figures and party members in the UK, families of members of China's ruling politburo, a key member of FIFA's ethics committee, and internationally sanctioned individuals from countries like North Korea, Russia, Iran, and Syria, as well as U.S.-sanctioned individuals accused of doing business with Mexican drug cartels, terrorist organizations, and rogue nations.
Regarding illegality, the ICIJ explains that "most of the services the offshore industry provides are legal if used by the law abiding":
But the documents show that banks, law firms and other offshore players have often failed to follow legal requirements that they make sure their clients are not involved in criminal enterprises, tax dodging or political corruption. In some instances, the files show, offshore middlemen have protected themselves and their clients by concealing suspect transactions or manipulating official records.
Indeed, the documents also show that major banks are "big drivers" behind the shell companies necessary for hiding wealth, including big financial institutions like UBS and HSBC. The ICIJ also notes that "Mossack Fonseca's fingers are in Africa's diamond trade, the international art market and other businesses that thrive on secrecy" and the leaked files include those of a "a convicted money launderer who claimed he'd arranged a $50,000 illegal campaign contribution used to pay the Watergate burglars," conspirators involved in the UK's biggest gold heist, and "29 billionaires featured in Forbes Magazine's list of the world's 500 richest people."
And what about the hidden wealth of Americans? Stay tuned, apparently:
Gerard Ryle, director of the ICIJ, believes the leak "will prove to be probably the biggest blow the offshore world has ever taken because of the extent of the documents."
This post has been updated to include the teaser about U.S. citizens in the documents.