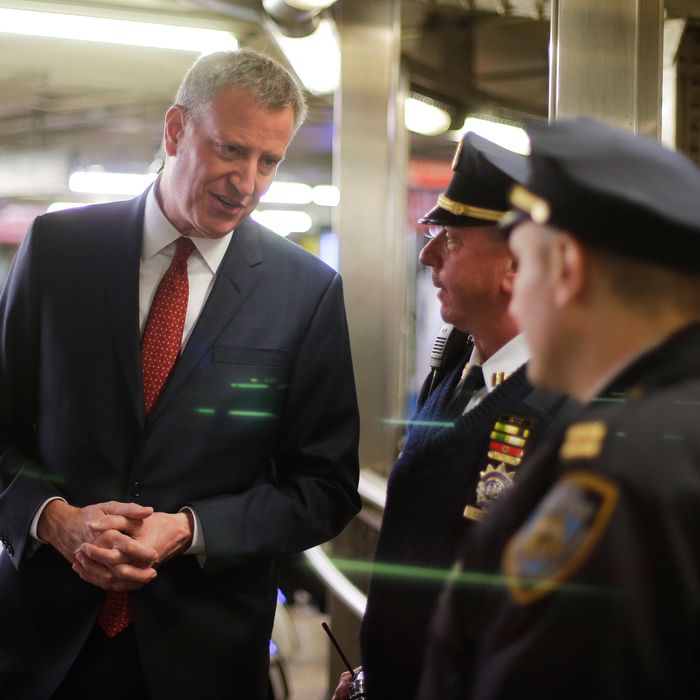 Photo: Pool/2016 Getty Images
The federal investigation into Mayor Bill de Blasio's fundraising tactics went one step further on Wednesday as several members of his inner circle — along with City Hall itself — were served with subpoenas. According to "people familiar with the matter," those subpoenaed include Emma Wolfe, the mayor's director of intergovernmental affairs and chief political aide; Ross Offinger, a top fundraiser; and BerlinRosen, a consulting firm co-founded by one of his top advisers. De Blasio's legal counsel told The Wall Street Journal that the mayor himself hasn't been personally served.
In issuing the subpoenas, officials are seeking documents related to the mayor's unsuccessful attempt two years ago to bring the Senate under Democratic control. Among other things, investigators are trying to determine whether de Blasio and his surrogates broke campaign-finance law in 2014 by circumventing contribution minimums. 
In late 2014, de Blasio made electing fellow Democrats to the state Senate a priority. Although his efforts failed, Republicans demanded an investigation into his fundraising tactics. The state Board of Elections complied, and a memo leaked late last week found the mayor's 2014 fundraising efforts involved "willful and flagrant violations" of campaign-finance law. Chief Enforcement Officer Risa Sugarman wrote that she'd "determined reasonable cause exists to believe a violation warranting criminal prosecution has taken place."
Campaign-finance reform prohibits individual candidates from receiving donations of more than $10,300, but county committees can accept amounts up to $103,000. In her memo, Sugarman suggests that, in an effort to get Democratic candidates elected in upstate races, de Blasio encouraged donors to give to county committees, which then transferred the money to individual candidates. Sugarman also said that de Blasio and his allies deliberately flouted campaign-finance law by asking for higher-than-allowed donations. 
Investigators are reportedly looking into whether county committees decided how to spend donor money, or whether they were encouraged by the mayor to channel it to Democratic candidates.
As the New York Times points out, both Wolfe and Offinger met directly with potential donors in 2014. But Offinger's lawyer told the Times his client "did nothing wrong" and "was simply doing his job," while a spokesperson for the mayor's office called Wolfe "a highly regarded public servant whose integrity should not be questioned." 
The de Blasio camp, naturally, has called the accusations absurd. "It's outrageous; I don't know what's motivating it," de Blasio said in a news conference earlier this week before suggesting Sugarman might be influenced by Governor Cuomo, who appointed her and who's never been a de Blasio fan. When asked if his team had abided by campaign-finance laws, he replied, "I can unequivocally say that." 
It'll be up to lawmakers to decide whether he's right. De Blasio's tactics might be "unseemly," an NYU law professor told WSJ, but "whether or not [they're] criminal is going to depend on the minutiae of New York state election law."