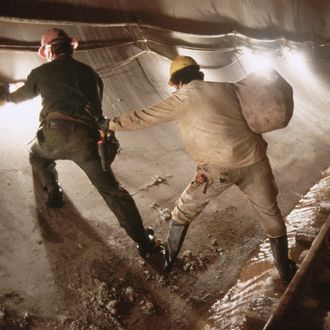 Two men work inside the water tunnel — in 1979.
Photo: Ted Spiegel/Corbis
Building a third water tunnel into New York has long been seen as a critical project that would keep water flowing to all five boroughs even if one of the existing, aging tunnels failed. Money for such a project was budgeted during Mike Bloomberg's tenure as mayor, and on Tuesday, the de Blasio administration disputed a Times report that the mayor postponed work on it. A spokesperson in the mayor's office tells Daily Intelligencer that while funding for future phases of the project has been reallocated, additional funds will be included in future budgets. In a statement, the mayor's office said that work is continuing on the project, and that they're anticipating the same construction timetable as the previous administration.
The third tunnel has mostly been completed and is already carrying water to Manhattan and the Bronx. But while the segments to bring water into Brooklyn and Queens have been built, two deep shafts still need to be constructed before they can be used. Those segments could be essential, however, in case of an emergency. Explains the Times:
If calamity or age forced the shutdown of City Water Tunnel No. 2, which is 80 years old, the primary water supply to much of Brooklyn and Queens would be lost for at least three months, city engineers said, the time it would take for an emergency activation of the sections of Tunnel No. 3 in Brooklyn and Queens that have already been finished.
The Times report said that the Brooklyn–Queens section of the third tunnel had been scheduled to be completed by 2021, thanks to $336 million that was included in the capital budget in 2013. But the mayor's office says that even during the Bloomberg administration, the plan was for construction work to begin on the shafts that year, and a spokesperson for de Blasio's office says they're anticipating the same timetable. Said a statement from the mayor's office: "Despite one misleading report, work is continuing on this project as fast as engineering allows."
Bloomberg saw the project, according to the Times, as the most urgent and expensive undertaking of his tenure. He realized its importance early in his first term, during a 2002 meeting in which officials from various agencies gathered to discuss preparedness in the event of a terrorist attack or natural disaster. Recalls former deputy mayor Kevin Sheekey, who was in attendance: "As ugly and disastrous as those scenarios were, none of them came close to the possible collapse of one of the two water tunnels that would make half the businesses and residences inside the city of New York uninhabitable."
The mayor's office also sought on Tuesday to clarify details of the project's funding. From the Times report:
But last year, Mr. de Blasio's administration, eager to keep a lid on water and sewer rates that had grown by an average of 8 percent annually under Mr. Bloomberg, moved financing for the third tunnel to other projects, Amy Spitalnick, a de Blasio spokeswoman, said.
Spitalnick says funds that had been earmarked for future phases of the tunnel project were indeed freed up so they could be used on more immediate needs. (She also disputed that the decision had to do with water or sewer rates.) In a statement, the mayor's office said that there is $52 million in the current budget "that allows siting and engineering work to continue to move forward." In the statement, the city also committed to including additional funds in the next ten-year capital plan, as well as the fiscal year 2018 four-year plan, both of which will be finalized next year.
In order to accelerate construction under Bloomberg, water and sewer rates rose — increases that de Blasio criticized at the time, suggesting, according to the Times, that they were actually being used as a backdoor tax to build up revenue for non-water projects.
The city first authorized construction of a new tunnel in 1954, but digging didn't begin until 1970, and, even then, progress was slow. (A 1979 article in New York was titled "The $1-Billion Tunnel to Nowhere.") In its statement Tuesday, the mayor's office said "The City remains committed to getting this project completed as quickly as possible."
This post has been updated with a response from the mayor's office to the Times report.