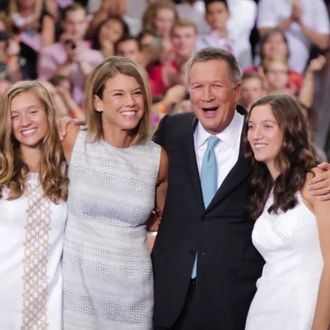 What a long, strange trip it's been!
It's become almost banal to refer to the presidential campaign of Ohio governor John Kasich as "delusional," insofar as the man doesn't seem to have a feasible path to the nomination or even a strategy. There are signs, moreover, that his alleged "pact" with Ted Cruz to give each other a wide berth in several states just ahead is not working and may even be backfiring in Indiana, where Kasich won't ask his supporters to vote for the Texan and some are even gravitating to Trump out of anger at an insider-ish corrupt bargain. 
Still, in the heart of Kasichland the dream burns bright as a hallucinogenic vision, as evidenced by this new pro-Kasich super-pac ad that shows the governor and his family celebrating the nomination after "1,237 brave Americans" overcame "tremendous personal pressure" to put him over the top.  It's unclear whether the "pressure" they ignored included legal obligations to vote for somebody else or just, you know, the overwhelming judgment of the many millions of primary and caucus participants who turned down the opportunity to embrace him when he asked for their votes. You almost get the sense Kasich is being Raptured to the nomination by a beneficent God, or perhaps God's general-election pollster. 
I particularly like the Grateful Dead–ish admission that Kasich's route to the nomination was a "long and fascinating trip" over a snippet of psychedelic music. It's a shame television-viewing Americans cannot share in this exhilarating fantasy, but, sad to say, Kasich and his backers ain't exactly flush these days, so a web ad will have to do.