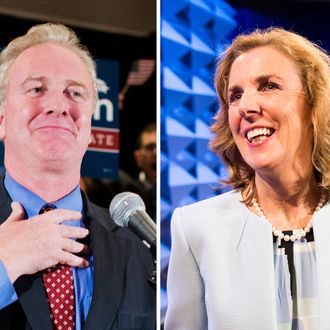 All's well that ends well for Chris Van Hollen and Katie McGinty.
Photo: Tom Williams/CQ Roll Call; Bill Clark/CQ Roll Call
Lost in the presidential brouhaha Tuesday night were two close Democratic U.S. Senate primaries in the two states holding down-ballot contests, Maryland and Pennsylvania. As recently as a week ago the races were up in the air, but the Democratic Establishment favorites carried the day by comfortable margins.
In a matchup of U.S. House colleagues, longtime Democratic leadership protégé Chris Van Hollen defeated sometimes-insurgent Donna Edwards by a comfortable 53-39 margin. Despite high African-American turnout fed by the presidential primary and a red-hot Baltimore mayor's race, Edwards, who is African-American, fell short; talk of racial polarization in the contest was undercut by the fact that Van Hollen won an estimated 35 percent of the black vote. There was no real echo effect from the presidential primary; both Senate candidates endorsed Hillary Clinton, and their backers supported Clinton by very similar margins. 
Van Hollen won handily in every part of the state other than Baltimore (part of which lies in Edwards's House district), and will be a heavy favorite to win in November. Nobody expects the shockingly good GOP performance in this heavily Democratic state in 2014 to carry over to a presidential year.
Meanwhile, in Pennsylvania, a contest with potentially greater general-election significance came out very similarly. Katie McGinty, heavily backed by the DSCC, major unions, and (late in the race) the president and vice-president, beat 2010 Senate nominee and former congressman Joe Sestak by ten points, roughly the margin by which she was trailing him in polls taken at the beginning of this month. 
While the race often got the usual Establishment-versus-populist billing, it wasn't especially ideological; McGinty is a longtime environmental activist who is very close to Al Gore, and Sestak is occasionally unpredictable in his positioning. The real issue is that Democratic professionals didn't trust Sestak to run a professional (or arguably, consultant-managed) general-election campaign against vulnerable Republican incumbent Pat Toomey, who narrowly defeated Sestak in 2010. Even before that loss, Sestak deeply annoyed Beltway Democrats by knocking off party-switcher Arlen Specter, a valued acquisition, in the primary. And so this time around they heavily intervened in McGinty's favor, and it worked. Sestak's campaign was also undermined by a stronger-than-expected third-place showing by a suburban Pittsburgh mayor named John Fetterman; McGinty and Sestak are both from the Philadelphia area.  
McGinty hasn't fared much better than Sestak in early trial heats against Toomey, but could benefit from more of the kind of high-life financial assistance she received late in the primary contest, and quite possibly from some help at the top of the ticket. Pennsylvania is one of those states where a really bad showing by Donald Trump or Ted Cruz could have real consequences down-ballot, and in the Senate.