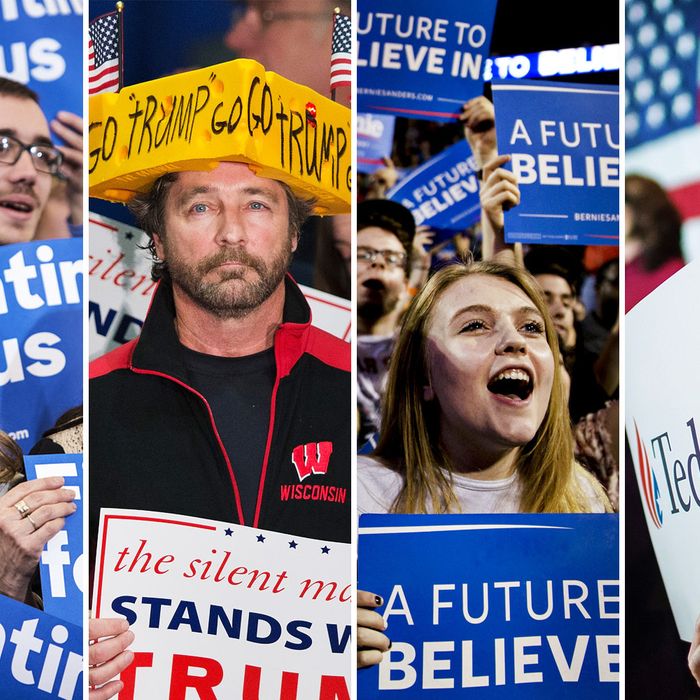 Wisconsin stands alone Tuesday night as an open primary for both parties. And except for a Republican convention in Colorado and Democratic caucuses in Wyoming this weekend, it's the last contest before New York on April 19 and five northeastern states on April 26. 
Election night in the Badger State is expected to be relatively undramatic. That's because Bernie Sanders and Ted Cruz have been trending upward in the polls there, and the demographics of the state suggest that's exactly how it should be. 
Sanders has been solidly outspending Clinton in Wisconsin. He benefits from a strong progressive activist tradition, the open-primary rules (28 percent of 2008 primary participants were independents), a strong campus presence (16 percent of 2008 primary voters were under 30), and a relatively small African-American vote (8 percent in 2008). Still, his polling leads have been narrow (the survey with the best reputation, from Marquette Law School, showed him up 49-45, with Clinton running ahead of him in the Green Bay area and the outer Milwaukee suburbs). The demographic splits in that poll are familiar, with Sanders winning 83 percent of voters aged 18 to 29 and Clinton winning 63 percent among those who are over 60. Overall, FiveThirtyEight rates Sanders a 73 percent favorite to win Wisconsin.
Because of the national Democratic principle of proportional representation, Sanders is unlikely to shave much from Clinton's pledged-delegate lead even with a relatively comfortable win in Wisconsin. What a victory would mainly do for him is keep his winning streak going — a Wisconsin victory would give him six wins in the last seven contests dating back to March 22. So his campaign and allied interest groups and media would have two weeks to hype this momentum going into New York, a virtual must-win. Inversely, a Clinton win in Wisconsin, though it would have little impact on the delegate count, would be very damaging psychologically to Team Sanders, much as the occasional late win for Obama in 2008 messed up HRC's late momentum.
On the Republican side, Wisconsin is not what you'd call Trump Country, with a relatively well-educated and fairly religious primary electorate. An analysis by the New York Times' Nate Cohn showed the Wisconsin primary electorate as most resembling Iowa's, Kansas's, and Utah's — all states where Trump has lost to Cruz. The state's GOP has also become a conservative-movement stalwart during the partisan wars of the last few years, led by Governor Scott Walker, who endorsed Cruz (as did most of the state's conservative writers and gabbers). 
Cruz has been surging in the more reputable Wisconsin polls in the last week, leading Trump by 10 points in the Marquette Law School and Fox Business surveys; by 7 points, according to Loras College; and by 6 points, per CBS/YouGov. FiveThirtyEight has Cruz pegged as a 90 percent favorite in Wisconsin.
What makes the Republican primary so different is its delegate-allocation rules: 24 delegates awarded winner-take-all in the eight congressional districts, and another 18 awarded to the statewide winner. If Cruz wins big, he could sweep all 42 delegates. A skunking of Trump in Wisconsin would be worth its weight in hype, but it could also make the mogul's delegate math a whole lot more difficult. Cruz would greatly prefer that Kasich win no delegates either; at one point, there was talk the Ohioan might actually win in Wisconsin. No more. 
Like a Clinton win, a Trump upset would have tremendous psychological value, especially heading into the northeastern primaries where he's expected to do well unless his "momentum" is gone. Doing better than expected in the Badger State would once again prove Trump obituaries are premature.