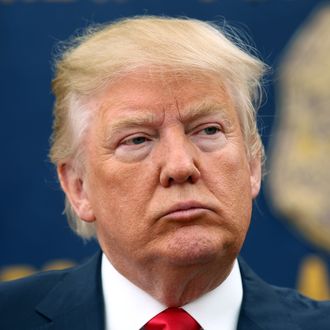 Donald Trump in Staten Island.
Photo: Steve Sands/2016 Steve Sands
Early returns from the New York primary have revealed the existence of a small island — just off the coast of Manhattan — that's populated entirely by fans of Donald Trump.
No one is certain how these 60 square miles of land came to be settled by devotees of the Donald, though some have speculated that a Celebrity Apprentice fan cruise may have shipwrecked on the island's rocky shores some time in the late-aughts. A similar theory links the community's origins to a Trump-branded fishing seminar (The Art of the Reel) gone wrong. Regardless, the territory appears to be in waters under the statutory control of New York City, leaving some to wonder if this "Staten Island" might not offer the opportunity for a win-win resolution to the GOP primary, for both Donald Trump and his detractors.