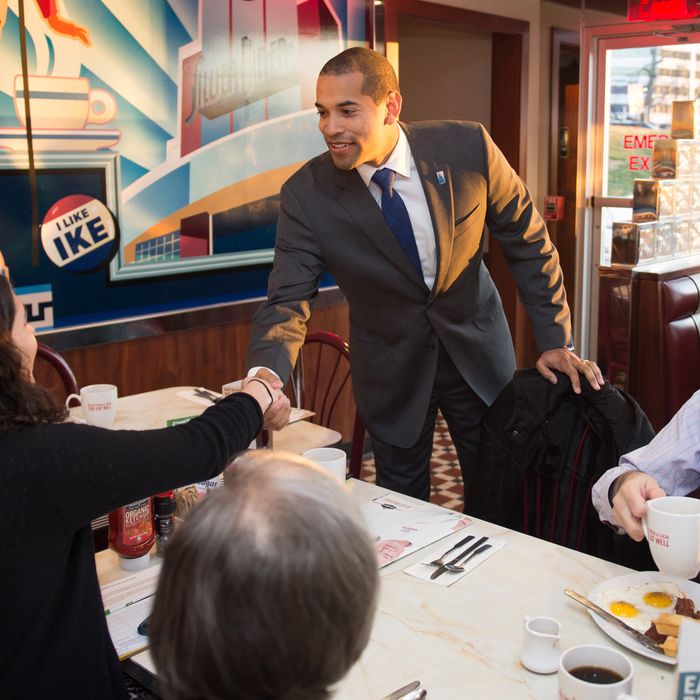 Maryland eighth-district congressional candidate Will Jawando greets members of the Rockville/Midcounty Democratic Breakfast Club on January 18, 2016, in Rockville, Maryland.
Photo: Kate Patterson/The Washington Post via Getty Images
Will Jawando, a candidate for Congress in Maryland's eighth congressional district, is visiting Millennium Salon, an elegant little barbershop located in a small house in downtown Silver Spring. Jawando's been getting his hair cut here for years, but today he's got a different purpose: convincing a few more people to vote for him in the Democratic primary.
There aren't any here, though — it's early afternoon, exactly a week ahead of the April 26 primary and the only patron in the shop, Reverend Jean Robinson-Casey, tells Jawando that she and her husband already voted for him. Not that he can afford to leave anything to chance in the last days of the race. In just about any other congressional district in the country, Will Jawando would be a Democratic dream recruit. He has the life story that fans of the president might love: The son of an African immigrant dad and a white mom from Kansas (sound familiar?), Jawando grew up in a working-class family in the district, where he still lives with his wife, Michele, a lawyer, and their three young daughters. Jawando, who started his political career working for House Speaker Nancy Pelosi and later served in the White House as the associate director of the Office of Public Engagement, has what Josh Kurtz, a journalist and longtime observer of Maryland politics, calls "just about the perfect pedigree for an aspiring young politician," and "far and away the most natural political talent" in his race. He's young, charismatic, and fluent in public policy, and has racked up an impressive list of high-profile endorsers hoping he makes it to Congress, including the legendary Georgia representative John Lewis, well-liked Maryland Democrat representative Elijah Cummings, former Education Secretary Arne Duncan, former EPA administrator Lisa Jackson, and former NAACP president Ben Jealous, to name a few.
But Jawando isn't running in any other congressional district in the country. He's running in the Washington suburbs — a district that, like Washington itself, is a heady mix of inequality and contradictions — home to immigrants and working-class families but also to the posh enclaves where official Washington goes to raise a family. The result is that Democrats have, depending on your view of things, an embarrassment of riches, or just a plain old embarrassment: There are nine people running on the Democratic side alone, several of whom are promising candidates, but the campaign has already turned into the most expensive House race in the country, even as its candidates complain about the outsized role of money in politics. One of them, a millionaire businessman named David J. Trone, is running as a self-described underdog, even as he's blown past the record for biggest self-funder in the history of House races. "I've spent $9.1 million to date on my campaign. Campaigns shouldn't be this expensive," Trone wrote in a large ad he placed in the Washington Post earlier this month, before giving himself another $2.5 million last week. "But they are, especially when you're a big underdog in a fragmented media market."
And he's not the only one spending loads of money: Kathleen Matthews, a hyperpolished, Clinton-esque former news anchor and corporate executive married to MSNBC's Chris Matthews, has raised more than $2.5 million, including a $500,000 contribution she made herself, and State Senator Jamie Raskin — husband of Sarah Bloom Raskin, the U.S. deputy secretary of the Treasury — has brought in more than $1.8 million.
That's made it tough for someone like Jawando — long on charisma and talent but short on the money needed to keep up with his better-funded competitors — to break through. Internal polling released by the Matthews campaign last month had him at 2 percent, and the race mostly looks like a three-way competition between the three candidates who spent the most: Trone, Matthews, and Raskin. One of the core arguments for Jawando's candidacy, as the only Millennial and only black candidate in the race, is that Congress needs to better reflect the diversity of the people they represent. "When you keep sending the same people, from the same backgrounds, from the same schools, and from the same communities to Congress and expect different results, that's the definition of insanity. There's a reason 80 percent of our Congress is white and 51 percent are millionaires. It's not a coincidence," he likes to tell voters. But effectively making the case in this kind of political environment, without millions to spend on advertising, can feel a little bit like shouting into the wind.
So in the final week of his campaign, he's doing it the old-fashioned way: waking up early every morning to head to the metro at 7 a.m. and ask for votes. He sees reasons to be hopeful: At the end of the last candidate forum (Jawando went to 25 similar events in the primary, he says), a 92-year-old woman approached him and told him she was supporting him because he represented the future. "It's hard," he says, of the long hours, "but this is how I know I'm supposed to be doing it — I get energy from talking to people."
Confident he's earned the support of the lone voter at Millennium Salon, Jawando makes his way over to another barbershop near the Silver Spring metro called Afrikutz. They're having a slow afternoon, too, but its owner, Oscar Masuku, lives in the district and tells Jawando that he's supporting him because none of the other candidates in the race bothered to come to the shop and ask for his vote. Jawando continues to make his way through the neighborhood, greeting local restaurant owners and wary passersby, landing finally at his last stop of the tour, Ebony Barbers. Norman Jones, one of the co-owners of the shop, eyes him up. "Are you running for office or something?" he asks.
Jawando tells Jones he's running for Congress, and a woman named Reverend Mary Graham, who's having her hair cut in Jones's chair, asks him to spin her around so she can take a look. "What seat are you running for?" she asks. Jawando explains that he's running to replace Congressman Chris Van Hollen (who is pursuing a U.S. Senate seat), and Graham's eyes go wide. She begins to tell him, at length, how she first met the congressman at a fund-raiser years ago.
Jawando senses an opening, so he gives the capsule summary of his résumé. Graham seems impressed, so he keeps going: "I grew up here. Dad's from Nigeria, mom's from Kansas," he says.
Graham, who's now taken a pamphlet from Jawando and is looking it over, emits a long, effusive: "Wowww."
"We need some new people, we need some new blood in this race," he says.
"Who are you running against?" Jones asks.
Jawando picks up a huge stack of David Trone booklets sitting near the front desk of the shop. "This is one of them," he says, laughing, "so I'm going to make sure I take these with me!"
"You can definitely take them with you," Jones says.
"You'd be co-workers with Elijah?" Graham asks, referring to Elijah Cummings, the Maryland Democrat.
"He just endorsed me yesterday," Jawando says. "One of the biggest honors I've received is being endorsed by him and John Lewis."
Jawando has clearly won Graham over. "Oh my God, he endorsed you too? John Lewis?!" she says. Jawando notes that Lewis has only endorsed two people this cycle: Hillary Clinton and him. "Are you serious?" she says. "Wow, that means a lot! I'm very proud of you."
This would be a perfect time to ask for her vote. But then she offers something that no congressional candidate wants to hear after he's pitched himself so successfully to a voter.
"I'm sad I can't vote for you," she says. "But I live in D.C."
Still, the visit isn't a waste. Jones agrees to let Jawando put a sign in his window. And just before he leaves, a 21-year-old named Deandre Roberts comes up to shake his hand. "I knew I was going to vote but didn't know I was going to vote for him," he says. "But he actually came to a place I come to a good amount, so it means that he actually talks to the people, and that means a lot."
That's one vote down. Only a few thousand more to go.