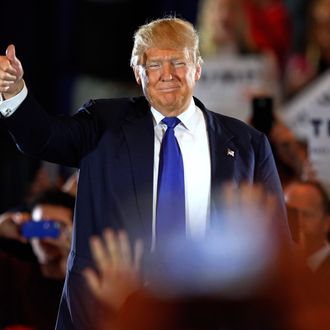 So much winning.
Photo: John Sommers II/Getty Images
Donald Trump is having a better week than you are. On Tuesday night, the GOP front-runner didn't just sweep the five northeastern primaries — he exceeded his polling averages in every state and took home far more delegates than he needed to stay on track for a pre-convention majority.
The next day, news broke that Trump had won roughly 40 of Pennsylvania's 54 unbound delegates. These delegates can vote their conscience, but 31 of those elected to the convention have an explicit preference for the Donald, while at least eight others had vowed to vote for whoever won the popular vote in the Keystone State. Every model of the GOP race had assumed that this group would be populated primarily by Cruz-aligned movement conservatives and #NeverTrump diehards. Thus, Trump's unexpected popularity with Pennsylvania's party activists has dramatically broadened his path to the nomination.
From there, life got even rosier for the grotesquely wealthy white man: Two new polls of California show Trump winning 49 percent of the state's vote. The Upshot's model of Trump's most plausible path to the nomination sets the mogul's delegate target in California at 103. When John McCain won California by a 7.5 percent margin in 2008, he secured 158 delegates. The latest CBS News/YouGov and FoxNews polls of the Golden State show Trump winning by margins of 18 and 27 percent, respectively. If those numbers hold, Trump could lose Indiana next week — long thought to be a must-win for him — and still avoid a contested convention. Not that he needs that insurance: The last three polls of the Hoosier State show Trump comfortably ahead.
But the real cherry on Trump's sundae, the gold-plating on his tower, is the Hoffman Research Group's new poll of Oregon. While there haven't been any major surveys of Oregon since Trump declared his candidacy, the state's demographics led most pundits to project that the Donald would finish third there. This new poll puts him in first with 43 percent, 17 points ahead of Ted Cruz. John Kasich was supposed to be so appealing to Oregonians Cruz formally agreed not to compete there, so as to clear the way for Kasich to clean Trump's clock. But Hoffman finds Kasich in third, with a mere 17 percent. And it's not like the governor has a ton of time to change residents' minds: Oregon does an all mail-in primary and voters begin postmarking their ballots next week. FiveThirtyEight's model of Trump's path to a first-ballot majority required him to secure only 9 of Oregon's 28 delegates. If this poll holds up, he'll more than double that.
Polls could change. Maybe Carly Fiorina's singing won the hearts of half the Trumpen proletariat. Anything's possible — especially in a world where Donald Trump's nomination is now probable.