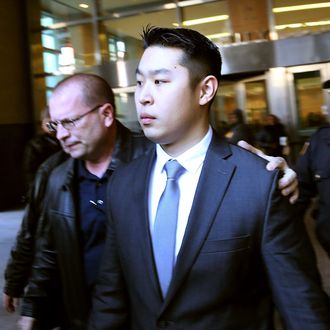 Liang during his trial in February.
Photo: Spencer Platt/Getty Images
Ex-NYPD cop Peter Liang will serve no prison time for the 2014 shooting death of Akai Gurley. Instead, a judge sentenced the former officer on Tuesday to five years probation and 800 hours of community service. The sentence matches closely with the recommendations of Brooklyn prosecutors, who said Liang never "intended to kill or injure Akai Gurley."
The judge also reduced Liang's conviction from manslaughter to criminally negligent homicide. Liang was convicted in February of manslaughter and official misconduct after he discharged his gun in the unlit stairwell of an East New York housing project. The bullet ricocheted off the wall and hit the 28-year-old unarmed Gurley, who died at the scene.