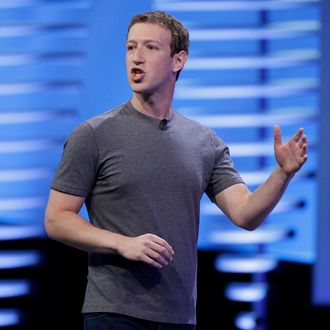 Photo: Eric Risberg/AP Photo
This week in California, Facebook is hosting its annual F8 developer conference, where it announces all of the ambitious technology and initiatives that will change how you experience the web. That sounds hyperbolic, but it's not: If there's been a running theme at F8 for the past few years, it has been Facebook flexing just how powerful it is. This year, Mark Zuckerberg literally picked up a carbon-fiber drone engine and carried it across the stage.
Here's a rundown.
Messaging is gigantic …
Between its two messaging platforms, Messenger and WhatsApp, Facebook is processing 60 billion messages per day, triple the number of standard SMS messages. Separating Messenger into its own app — an aggressive strategy that was initially off-putting to many users — appears to have worked out. Messenger was the company's fastest-growing platform in the past year and now handles 900 million users every day.
… so there's a messaging-development platform now.
Developers are now able to implement bots so that users can interact with their web presence simply by talking to them. This is poised to become the next big thing in tech, as much as a delineated tech industry even exists anymore. The two examples Zuckerberg showed off were bots from CNN and 1-800-Flowers, demonstrating the platforms' two strengths: curated information, and commerce. CNN's messages were tailored to a user's specific interests, and 1-800-Flowers let users order flowers without calling.
Facebook is heavily encouraging developers to get with the program and start making their own chatbots (the better to increase Messenger's ubiquity and popularity). If you want, you can even receive "sponsored messages" on occasion (you can also block them entirely). Like Microsoft, Facebook is pushing its own easy-to-use bot-creation tool and AI platforms.
Users can also integrate bots right into Messenger through a new bot store, similar to the App Store. And like the App "Store," expect most bot integrations to be free. They do want to sell you stuff, after all.
Here's Facebook's global-domination plan for the next ten years.
Facebook's long-term goal as a company is to move from enabling communication through a layer of software on computers and phones to enabling global interconnectivity on a physical, infrastructural level, using drones and satellites and lasers — and the oft-maligned "Free Basics" program. The company isn't messing around here. Zuckerberg said that its internet-beaming drone can fly around providing service for months.
Facebook engineers are heavily focused on building out the company's machine learning and AI features, both to expand Facebook's overall capabilities and to reduce some of the development load for anyone using the platform. To help build out those features, Facebook is opening up those platforms to developers.
It's a symbiotic relationship in which developers get to harness the power of Facebook's robust AI tools while also feeding the AI project more data to make it better. In the short term, these advances will feed back into Facebook's bot platform, helping it better understand and respond to users. In the long term … it will probably figure how to launch the nukes.

You might notice that nowhere on that graph is the News Feed — the product most people think of when they hear the word Facebook. That's not to say that News Feed is going away any time soon — it still makes Facebook more money than anything else — but the company is clearly looking beyond the Feed, an increasingly antiquated format in an age when young people spend most of their time in Snapchat and messaging apps.
Virtual and augmented reality are here to stay.
Facebook is already shipping its Oculus virtual-reality headsets to consumers, and though there's still a relatively high barrier to entry (the kit costs $600), the company seems committed to lower it. Zuckerberg, in full Oprah mode, gave every keynote attendee a Samsung Gear VR headset, which uses Oculus tech as well, and the company also said it was working on augmented reality glasses, but didn't have anything concrete to show off.
In addition to obvious gaming capabilities, Zuckerberg clearly sees VR as another immersive communication tool: "I think virtual reality has the potential to be the most social platform," Zuckerberg said, showing off a demo of two avatars interacting together in 3-D space, despite being in physical distant locations. Of course, there needs to be a revenue component, so maybe soon you'll be able to have an "interactive brand experience" where you and your friend in Kuala Lumpur can talk in VR space but only about Pizza Hut.
For now, though, this is still the face of VR:
Live video is here, duh.
If you have Facebook on your phone, you likely know from its irritating alerts that Facebook is making a big push into live video. Today it announced a Live API, which would allow third-party hardware and software to be integrated into broadcasts. No longer will broadcasting be relegated to Facebook's app, meaning users can take advantage of nicer cameras than that on an iPhone — and, crucially, third-party editing software to add overlays, animations, and other effects. It's time to welcome the glorious era of inescapable and hideously ugly videos that we predicted last month!
Secondly, the company also took the wrapping paper off its many-eyed 360-degree camera and is open-sourcing its design. Expect to see numerous high-end and cheapo versions of it in the coming months.
A new way to log in.
Facebook also unveiled a new developer platform called Account Kit. The idea is simple: Rather than registering a username and password, log-in only requires an email address or phone number. Then a onetime-use code is sent to that device. It's very simple to use, and in most ways it's more secure than a password, but there's a nightmare downside: If someone loses their mobile device, it could lead to an authentication headache and never-ending chain of two-factor authentication.
Zuckerberg has clearly been getting swoll.
This has gradually become apparent over his last few public appearances, but Zuckerberg has clearly been working out. If you're going to become a Cyberlord of Earth, you gotta be buff.