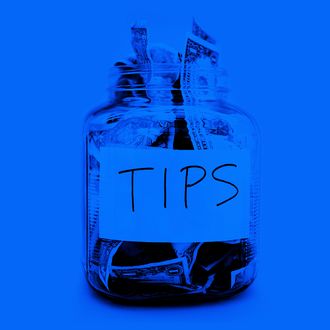 Photo-Illustration: Following/Getty Images
Facebook is reportedly considering adding "tipping" to its stable of revenue options, letting users make micro-payments to one another as a show of appreciation. That Facebook would start floating these ideas shortly after the official launch of its own streaming platform is hardly surprising, but for many people (the vast majority of Facebook's billion-plus user base) it may seem odd. Web users in general and Facebook users in particular expect things for free — the company has never charged its users for basic content or for functionality.
According to the Verge, Facebook is polling users and gauging reaction to new ways for users to monetize posts, including via the popular tip-jar format prevalent on streaming sites like Twitch and YouNow. The ideas — which are, for now, just ideas — include "branded content, and taking a cut of the ad revenue Facebook earns from posts" as well as calls to action and ways to make a donation.
But real-time sharing has changed how people interact online. Live performance, by its very nature, generates a certain type of response, and the online tip jar is not that different from the musician's open guitar case on the subway platform. Facebook's already stated that live video generates ten times more comments than taped video, and if Twitch is any indication, users are willing to fork over more money during live video as well. It helps to think of live video as a pledge drive: If you're enjoying the entertainment, why not chip in a few bucks.
Facebook examining other monetization methods and trying to bring them in-house was an inevitability, because tip jars and the like will happen whether Facebook wants them to or not. Now that the company has opened up live video via an API, users will soon be able to customize their broadcasts in the same style as on Twitch, adding graphic overlays, tickers, and leaderboards encouraging contributions. On Twitch, à la carte tipping happens via third-party services, meaning that Twitch sees none of that money (it earns revenue through a variety of other ad and subscription options).
When I spoke to Twitch's head of programming back in January, he spoke positively and enthusiastically about the large number of payments circumventing Twitch's system, but was hesitant to admit to wanting a slice. If these preliminary surveys are any indication, Facebook knows that as it expands live-video functionality, tipping is an inevitability. If they can develop a first-party tip jar that's easier to integrate — and more importantly, that they can take a cut from — then creators can expect to see a lot more money flow through the Facebook ecosystem.