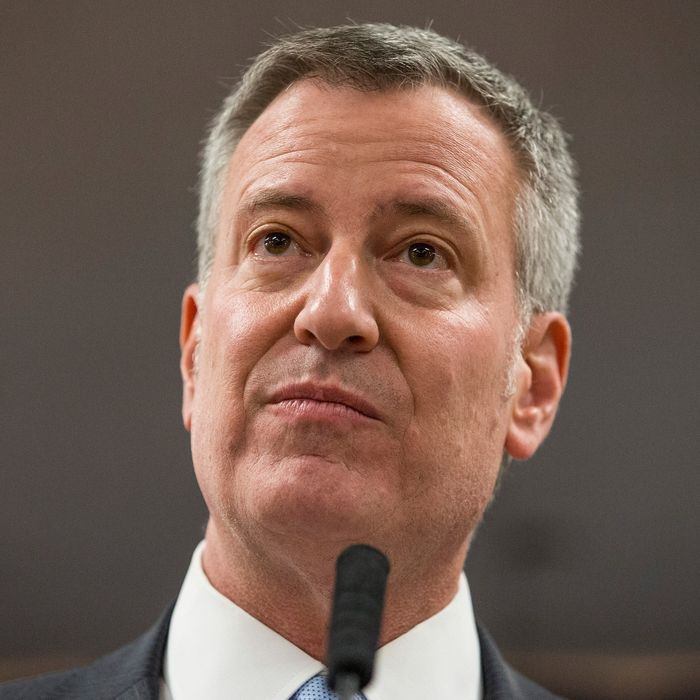 Bill de Blasio announces his plan to raise the minimum wage.
Photo: Andrew Burton/2016 Getty Images
Bill de Blasio is getting a taste of just how nasty scandals can get in a city where ethnic factions jockey for influence and old friends from the campaign trail don't play by the script.
The mayor has been dogged for a while now by the strange saga of a former nursing home in the Lower East Side of Manhattan called Rivington House. The erstwhile AIDS treatment facility was flipped in February by a prominent businessman from the ultra-Orthodox Bobover sect, Solomon Rubin, whose firm, Allure Group, sold it to a luxury-condo developer for $72 million in profit. Now, a spiraling FBI corruption probe that centers on two prominent de Blasio money men is presenting what might prove one of the most significant challenges yet to his administration.
When it comes to Rivington House, even though one of de Blasio's agencies blessed the deal, the mayor says he knew nothing about the thing until it went public. What is indisputable, however, is that he knows the Bobover community rather well.
"He owes me everything," Rabbi Yitzchok Fleischer, a prominent Bobover power player in Borough Park, told me of then-candidate de Blasio back in 2013. "Whatever we needed, he was always there for us."
Fleischer emailed me Thursday to clarify that "Rubin is an individual in [the] Bobov community, not representing Bobov, [and has] nothing to do with the Mayor." And that may well be true. The problem for de Blasio lies in the growing perception that he might be showing undue favoritism, his subordinates even cutting shady deals in a town where zero-sum identity politics still reign.
"This is a tribal place, and in order to govern, you have to have relationships with tribes," said Hank Sheinkopf, a veteran New York City Democratic political consultant. "Everybody's got a blind spot, or two or three or five."
Leaving aside the fact that the mayor's office apparently received correspondence about what was coming, de Blasio says he regrets that the Rivington House deal was "not handled right by the agencies" and insists he's perfectly cool with State Attorney General Eric Schneiderman looking into it. According to The Wall Street Journal, the mayor's campaign has already returned just under five grand in donations from Joel Landau, another executive at Allure Group. Meanwhile the lobbyist who engineered the facility's overhaul, James Capalino, has cobbled together nearly $50,000 on de Blasio's behalf since October.
No doubt more alarming for City Hall is the federal probe that has reportedly seen some 20 top NYPD officials interviewed by FBI agents and a Manhattan restaurateur named Hamlet Peralta arrested and charged with operating a Ponzi scheme. So far, the investigation has centered on Jona Rechnitz and Jeremy Reichberg, two businessmen who were prominent de Blasio fundraisers and served on his inaugural committee. (They were also investors in Peralta's since-shuttered Hudson River Cafe.) The Feds are said to be looking into free meals, trips, and even diamonds the men might have given to prominent city cops, possibly in exchange for escorts at funerals and other events. 
De Blasio told reporters Sunday that he hasn't been contacted by the FBI or by U.S. Attorney Preet Bharara's office about the probe and suggested he didn't know Rechnitz or Reichberg until he was on the campaign trail in 2013. On Monday, the mayor said he was done discussing the investigation. "I know of no favorable municipal action that they got," he told reporters of the two men. "I don't know the specific process of how each name was determined. I don't know the exact tick-tock of that." (Multiple outlets reported Tuesday that the Feds are also looking into the Rivington House deal.)
Now, local political insiders seem to be in a sort of holding position, waiting to see if and when the other shoe drops. 
"First, it has to be determined the level of de Blasio effort — if any — on behalf of individuals," said Doug Muzzio, a professor of public affairs at CUNY and an expert on local politics, who thinks the confluence of these two mini-scandals "represents a potential danger" for the administration.
After all, Bharara's office very noisily investigated the ethics of Governor Andrew Cuomo's shuttering of a state corruption commission, but ultimately declined to come at the guy. And it's worth remembering that neither the cops — four officers who have been placed on modified duty — nor the two fundraisers have been charged with crimes, at least not yet. That a few local influence-peddlers might be up to no good is not, on its own, a scathing indictment of the mayor.
What we know is that de Blasio can stumble, and badly. This is a guy who managed to get into a weird, damaging public fight over one of the most esoteric issues there is — horse carriages in Central Park — and fail completely. He also got destroyed in a PR battle with Uber, caving on a plan to cap the car-sharing service's growth in deference to old-school yellow cabs.
But this is also the brilliant Democratic tactician from Park Slope who railed against Wall Street bankers and seamlessly deployed his son's afro to seal the deal with city voters angry about inequality and stop-and-frisk in 2013. And he's passed signature items such as universal pre-K and, just last month, an affordable-housing plan.
Even if the FBI probe never arrives on the steps of Gracie Mansion, the risk for de Blasio is that his administration's agenda gets held up amid scrutiny of favor-trading in New York.
"They're not going to be able to function as they once did," Sheinkopf said of the mayor's office. "None of these kinds of rumors, constantly repeated, help anybody govern."
This post has been updated to include new information about the Rivington House deal.