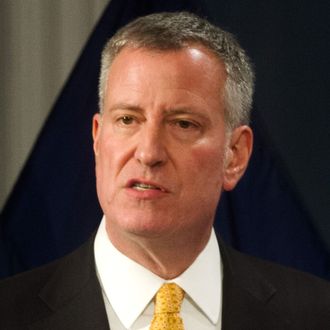 Photo: Hilary Swift-Pool/Getty Images
Mayor Bill de Blasio had a pretty rotten week. First there was the whole Brooklyn-Queens water-tunnel debacle. He relived a Mets opening-day tradition of getting booed at Citi Field for the third straight year. Then news broke late Friday that the federal government is now investigating the mayor's campaign fundraising activities as part of a larger probe into NYPD corruption.
Mayor de Blasio's campaign is getting caught up in this widening investigation after two big de Blasio donors, Jona Rechnitz and Jeremy Reichberg, both real-estate businessmen who served on the mayor's inaugural committee, had come under scrutiny for allegedly giving gifts and vacations to some NYPD officials in exchange for police escorts and other favors. Now the FBI is trying to figure out if Rechnitz and Reichberg may have used their resources to gain some clout at City Hall, and are apparently digging into how de Blasio went about soliciting funds. The Feds are also reportedly looking at former campaign treasure Ross Offinger, reports CBS 2.
Rechnitz and Reichberg both gave hefty sums to the mayor's Campaign for One New York, a nonprofit to advance his progressive priorities in New York and across the country. (De Blasio disbanded that fund in March, basically saying "mission accomplished," but his announcement coincided with an outcry over revelations that the organization doled out hundreds of thousands of dollars to political consultants.)
"We are fully confident that the campaign has conducted itself legally and appropriately at all times," a spokesman for the Mayor's office said in a statement. He also said the mayor won't take any funds from the two businessmen going forward, and that de Blasio plans to return the donations that Reichnitz and his wife gave directly to his mayoral campaign (a total of $9,900). 
This whole corruption inquiry began when the FBI stumbled across Rechnitz and Reichberg's cozy relationships with cops after tapping the businessmen's phones based on their ties to a separate investigation into a wholesale liquor business, which, per the New York Times, was a Ponzi scheme. (The restaurateur behind that scheme has been arrested.) But that probe revealed that both Rechnitz and Reichberg had been tight with some powerful members of the force, including former Chief of Department Philip Banks, who retired in 2014, and Norman Seabrook, the president of the Correction Officer's Benevolent Association. The investigation into the NYPD has ballooned from there.
And the NYPD has been hit hard in the fallout from the corruption scandal this week: About 20 high-ranking NYPD officers were questioned by the FBI for their links to Rechnitz and Reichberg. Police Commissioner Bratton took action Thursday, stripping the commanding officer of the 19th precinct, on the Upper East Side, and the second-in-command in the NYPD's housing bureau of their guns and badges and placing them on desk duty. Two other officers were transferred, with Bratton saying it was "not a particularly good day for the department."