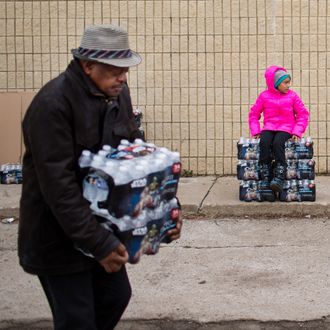 Flint, Michigan.
Photo: Brett Carlsen/Getty Images
Two state officials and one city employee will face criminal charges for their roles in the mass poisoning of Flint, Michigan, the state's attorney general announced on Wednesday.
Among those charged is Mike Glasgow, who ran Flint's water-treatment plant. Authorities accuse Glasgow of misleading the city about the threat its water posed, by passing off water samples from low-risk homes as ones from high-risk homes with lead pipes. He will face charges of tampering with evidence and willful neglect of duty, felonies that carry maximum penalties of five years in prison and four years in prison, respectively, according to the Detroit Free Press.
Two officials with Michigan's Department of Environmental Quality, Stephen Busch and Michael Prysby, will also face charges of evidence tampering, along with misconduct and violations of the Safe Drinking Water Act. Bush, the department's suspended Lansing district coordinator, oversaw Flint's drinking-water plan. In February of last year, he assured the EPA that the city's water was being treated with proper corrosion controls and that regular tests showed no abnormal levels of lead. This proved to be untrue.
Prysby is accused of failing to respond to a 2014 email from Glasgow that warned that Flint was not prepared to safely switch its water source to the Flint River. Switching away from Detroit's water system was supposed to save the city and its residents about $1 million a year. Michigan governor Rick Snyder has pledged to spend $360 million helping the city recover from the crisis that switch created.
"They had a duty to protect the health and safety of the families and citizens of Flint," Michigan attorney general Bill Schuette told NBC News Wednesday afternoon. "They failed us all."
Special counsel to the investigation Todd Flood told the network that further charges were likely.
"We will go down every rabbit hole," Flood said. "This is just the first wave."