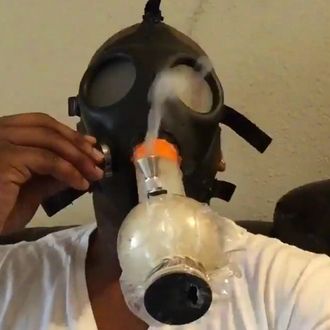 During last night's NFL draft, someone had it out for Ole Miss linebacker Laremy Tunsil: Minutes before the draft began in Chicago, somebody posted a video of what appears to Tunsil smoking out of a gas mask.
Tunsil deleted his Twitter account, then revived it to apologize, then tweeted it out again. His representation tried to spin it as an old video from high school, and said the account was hacked. (The video's apparently made the rounds: Deadspin was approached by someone trying to sell it earlier this month.)
After the video went up on Twitter, the Baltimore Ravens reportedly dropped Tunsil from consideration, according to NFL reporter Aditi Kinkhabwala, passing on him at number six.
But the social media clothesline didn't stop there. Just minutes after the Miami Dolphins drafted Tunsil, screenshots appeared on his Instagram that appeared to show Tunsil asking coaches at Ole Miss for help paying his rent. Taking money from coaches is a violation of NCAA policy. Tunsil later admitted that he took money from coaches.
Tunsil found out about the Instagram screenshots while speaking live with ESPN. Tunsil described the hack as "crazy" but seemed otherwise fine: He had, after all, just been signed by the Miami Dolphins. (Deadspin and TMZ both speculate that Tunsil's stepfather Lindsey Miller may have been involved in the hack. Miller recently sued Tunsil for "intentional inflection of emotional distress.")
The "I was hacked" excuse is often trotted out when someone commits a serious fuck-up on social media. Most famously, Anthony Weiner claimed that he was hacked after accidentally tweeting a picture of his junk. Earlier this year, NBA player D'Angelo Russell claimed he was hacked after video he recorded — featuring teammate Nick Young confessing to cheating on fiance Iggy Azalea — leaked. It's a lame excuse people make whenever they post something online accidentally or hastily.
For Tunsil, though, someone was deploying embarrassing information on his social media accounts without his knowledge. Possibly for the first time ever, "I was hacked" appears to be used truthfully.