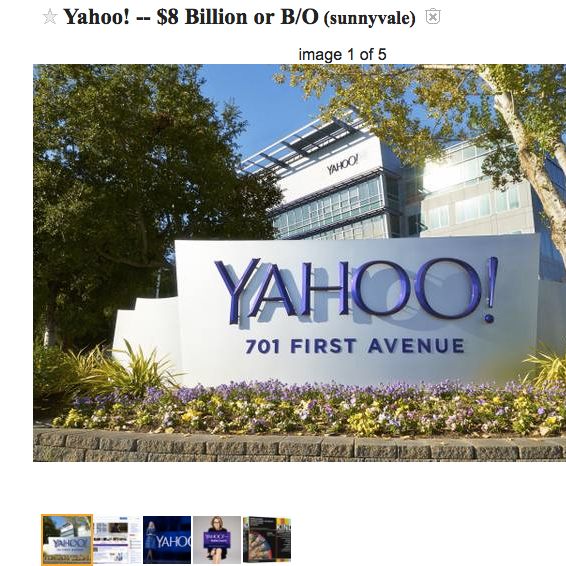 Do you have $8 billion lying around? Because, boy, do we have an amazing (and definitely legitimate) opportunity for you.
Thursday's Bloomberg story, which loudly valued the company at -$8 billion (that's, yes, a minus sign), featured an excellent cover: a "for sale" flyer advertising a "Vintage Internet Company." (Contact "m_mayer1999@yahoo.com.")
But, obviously, when you want to sell an internet company, you don't print out a flyer. You create a Craigslist ad, like this one first noted by Business Insider.
We're sure this ad won't last too long before it gets flagged and taken down, but here's what it says your money gets you.
A rare find, this one-of-a-kind Internet original is now available to the public for a limited time.

A beautiful piece in good-to-fair condition, showing some signs of wear but easily restored in the hands of the right person. Sadly, the original owners can no longer maintain it.

Total package includes:

* 1 billion users, more or less
* Web email system (now 62% spam free!)
* Bottomless archive of Kim Kardashian photos
* Flickr

&

Tumblr
* Fully equipped Nautilus gym
* A really nice cafeteria
* The Yahoo Weather app
* Several warehouses filled with Kind bars
* Katie Couric
Buyer beware, though. The ad makes note of the company's current condition: "Salvage."