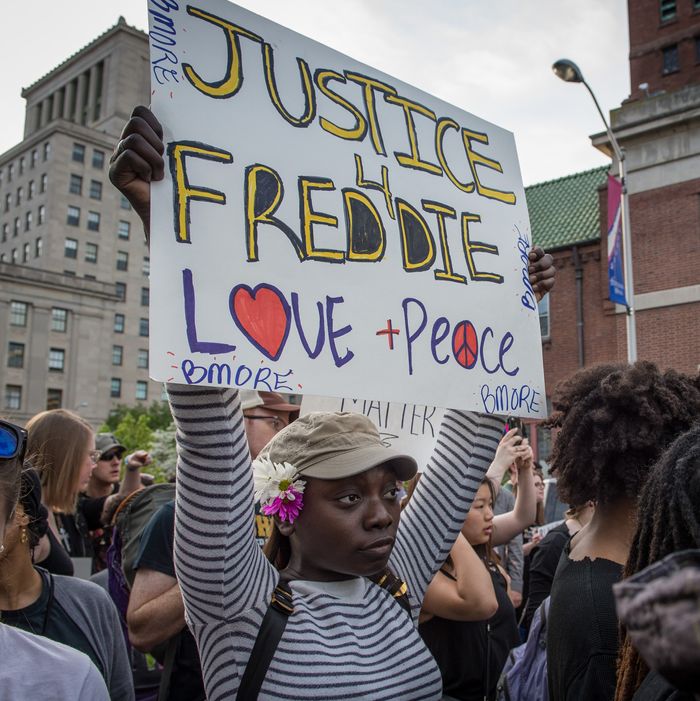 Baltimore, one year ago today.
Photo: Copyright Ken Cedeno 2015
Good morning and welcome to Fresh Intelligence, our roundup of the stories, ideas, and memes you'll be talking about today. In this edition, Baltimore police shoot an eighth grader, Dennis Hastert becomes speaker of the big house, and Ted Cruz sets Carly Fiorina up to fail a second time. Here's the rundown for Thursday, April 28.
WEATHER
Fifteen tornadoes — and counting — have been reported in the last 24 hours, including one touching down in an urban area in Omaha. Luckily, today should be tornado-free, but there will be extreme weather in the form of thunderstorms heading east across the Ohio and Tennessee valleys and to the coast. That includes New York City, where we can expect clouds and plenty of rain. [Weather.com]
FRONT PAGE
One Year After Riots, a Police Shooting
Baltimore police shot and injured a black 13-year-old boy yesterday. The boy was carrying a toy gun, which two plainclothes police officers believed to be real. He ran from the officers, and they chased him before shooting him once in the leg and once in the shoulder. The eighth grader was taken to a hospital with non-life-threatening injuries, and his mother was taken in for questioning. In what PR types describe as "poor optics," while the shooting took place, across town the mayor was hosting a ceremony to commemorate the one-year anniversary of the riots that rocked Baltimore following the death of Freddie Gray while in police custody. [The Atlantic]
EARLY AND OFTEN
Bernie Sanders Streamlines His Operation
The Bernie Sanders campaign is laying off hundreds of staffers and focusing his energies on California — the most populous state in the country — whose primary is in June. Firing staffers isn't usually a good sign for a campaign, and this time is no exception. Sanders is basically acknowledging that the Democratic race is over, but he still plans to make his progressive influence felt in the Democratic party.
Newt Gingrich Now Second-Worst Speaker of the House in History
Dennis Hastert, the one-time Speaker of the House who molested at least four children while working as a high-school wrestling couch, is going to jail. No, not for the molestation — that was so long ago — but for illegally structuring bank withdrawals, which he used to pay off his victims. He was sentenced yesterday to 15 months behind bars.
Ted Cruz Overcomplicates Dropping Out of Race
Ted Cruz went out and got himself a woman card. The Texas senator tapped failed presidential candidate and paper pusher Carly Fiorina for vice-president yesterday. Fiorina appeared on TV to assure everyone that all the nasty things she said about Cruz were not true and that they've since bonded — probably over their shared conservative values and love for making people uncomfortable.
Trump Foreign Policy Designed to Fit on Hat
Donald Trump gave his first foreign-policy speech yesterday. It was called "America First," and it stuck pretty closely to that theme. Trump explained how he would take the Mexican-wall approach to foreign policy: Build up the military, but make other countries pay for it. Madeleine Albright described the speech as "simplistic slogans and contradictions," while Lindsey Graham said it was "isolationism surrounded by disconnected thought." [Reuters]
THE STREET, THE VALLEY
Facebook Shares, Now With Lucrative Double Meaning
Facebook blew away Wall Street analysts yesterday when it announced its quarterly revenues were up by more than 50 percent. It also unveiled a new method of structuring its stock, which is similar to Google's and which has been described as Zuckerberg consolidating his power. In related news, Facebook stock rose 9.5 percent. [Reuters]
FBI Values Its Privacy, Sees No Irony
The FBI has no problem with secrets, as long as they're its own. The agency has said it will not submit the methods it used to unlock the iPhone that belonged to one of the San Bernardino shooters to a government review. The review was intended to determine whether the FBI should share its hack with Apple, so that solves that. [Bloomberg]
Authorities Must Have Warrant for Search, America Begins to Catch Up to Law & Order Version of Itself
The Email Privacy Act has unanimously passed the House of Representatives. The act states that authorities must have a warrant to search emails even if they've already been opened, and that a warrant is still necessary for electronic information even if it's more than half-a-year old. Apparently that was not always the case. [The Verge]
Carmaker Has Trouble Car-making
There's really no way to sugarcoat this: This week alone, Ford has recalled 300,000 vehicles for five separate mechanical issues. We're not sure if it makes things better or worse, but none of the five issues are related. So far no one has been hurt. [CNet]
MEDIA BUBBLE
Job Opening for "Man in Washington"
Michael Regan, the top government-affairs official for 21st Century Fox, is quitting. Regan is considered one of Rupert Murdoch's closest confidants and is often described by journalists as "Murdoch's man in Washington." This guy has seen some stuff — he'll be taking a job as a Fox consultant. [Politico]  
Arianna Huffington to Double-Task
Huffington Post namesake and editor-in-chief Arianna Huffington is joining the board of directors at Uber. But don't worry — she will no longer write about Uber on her news service. [WaPo]
Comcast Uses Earnings Spike to Treat Itself
Yesterday was a very exciting day for Comcast, the largest cable company in the world. First, the company announced earnings that beat analyst estimates across the board. Then, it announced what it would do with all that money: Buy DreamWorks. The cable giant is in talks to acquire the production company for more than $3 billion. [WSJ]
PHOTO OP
Boycott Beyoncé
Check out Beyoncé's new tour merchandise: so confounding, it must be cool. We'd rather boycott air.
MORNING MEME
Oh My God, She Sings
How did this race get even more hallucinatory? What is this song? Did she write it? Get Cruz up there and they'd look like an animatronic band from one of those weird pizza places.
OTHER LOCAL NEWS
Aliens Run Amok
A huge, mysterious column of smoke was spotted over Area 51 yesterday. As we're sure you know, Area 51 is the secret military base where the U.S. government keeps all the aliens it has apprehended. Well, now it looks like those aliens have escaped and are leaving a trail of destruction in their wake. That, or something else was on fire. [Express]
Los Angeles Bus Accident Terrifying, Confounding
Somehow a Los Angeles school bus carrying eight special-needs students managed to impale itself on a railroad crossing arm. No one was hurt, but will someone please explain to us how this is even possible? It looks like a school-bus kebab. [UPI]
HAPPENING TODAY
You Can Now Buy Wine on eBay, Please Forgive Tomorrow's Typos
Today, eBay is launching its wine section in partnership with the wine app Drync. The new section will work like regular eBay but for wine instead of scrimshaw and monogrammed cuff links. Now you have a reason to shop online before you get drunk. [Forbes]
Commerce Department Releases First-Quarter Report
The Commerce Department will release its initial estimate on the economy's first-quarter growth today. Nobody is really expecting any surprises, as the figure should be fairly low — most likely in the ballpark of one percent. [NYT]
GUYS, DROP EVERYTHING
We don't understand it, but we're not complaining. Krispy Kreme has invented a new holiday: Apparently today is Super Hero Day. All you need to know is that if you purchase a dozen donuts — like you do every day, we're sure — then you get another dozen free. This is not a drill! Enjoy your 24 donuts. [Time]